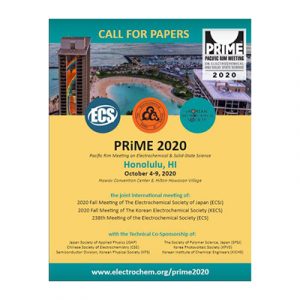 Don't forget to make your plans for the PRiME 2020 meeting in Honolulu, Hawaii from October 4-9, 2020.
The deadline for abstract submission is April 17!
With over 50 separate symposia scheduled for this meeting, there should be one that covers your particular area of research. Check out the full Call for Papers for more details.
Be sure to also check out our symposia aimed at students and early career professionals:
A05 – Advances, Challenges, and Development of Solid State Battery Electrochemistry and Materials – Featuring a special afternoon session dedicated to young investigators in the form of a "student slam," consisting of 10-minute flash oral presentations with 2 minutes of Q&A.
C02 – High Temperature Corrosion and Materials Chemistry 14 – Focusing on both the fundamental and applied thermodynamic and kinetic aspects of high temperature oxidation and corrosion. Contributions from students and industry are especially encouraged.
D01 – Semiconductors, Dielectrics, and Metals for Nanoelectronics and Plasma Nanosciences – Will have a "Young Scientists" session, which aims to provide a unique forum for senior PhD students and early career researchers to present papers related to all areas of dielectric science and materials.
F02 – Advances in Application and Theory of Electrochemical Impedance Spectroscopy – Featuring tutorials useful for students and professionals seeking to diversify their background or break into new technological areas.
I01 – Polymer Electrolyte Fuel Cells & Electrolyzers 20 (PEFC&E 20) – Supporting students and postdoctoral participation to encourage development of new and talented researchers in the field. Student poster prizes will be awarded (see details in the Call for Papers).
L02 – Molten Salts and Ionic Liquids 22 – Providing an international and interdisciplinary forum to present the latest research on systems involving molten salts and ionic liquids. Student participation is highly encouraged.
Z01 – General Student Poster Session – Where we award prizes for the best student posters in electrochemistry and solid state science.
In addition, there will be several topics that address industrial issues and consumer applications:
A02 – New Materials for Next Generation Batteries – Shedding light on the recent progress of new materials for next general batteries.
E01 – Electrodeposition for Energy Applications 5 – Focusing on emerging and nano-structured materials enabled by electrodeposition in the area of photovoltaics, (photo-)electrochemical conversion, electrocatalysis, hydrogen fuel, CO2 capture, energy storage, batteries, supercapacitors, fuel cells etc.
F01 – Advances in Industrial Electrochemistry and Electrochemical Engineering – Featuring papers on design, operation, testing, and/or modeling of industrial electrochemical systems, and more.
G05 – Materials and Processes for Semiconductor, 2.5 and 3D, Chip Packaging, PCB, FPCB, and Wafer Bonding 3 – Highlighting an emerging technology or device architecture called 2.5D and 3D integration.
H05 – Metal Organic Frameworks (MOFs), Covalent Organic Frameworks (COFs) and Porous Hybrid Materials: Characterization, Technology, Bio-Applications, and Emerging Devices 2 – Offering a new interdisciplinary and international platform, and aims to contribute towards advancing the fundamental understanding of layered MOF, COFs and porous Hybrid thin films with the objective of improving technological and bio-applications.
The deadline for abstract submission is April 17!