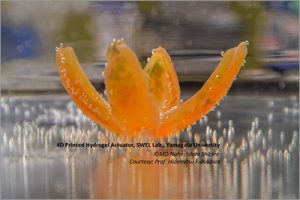 The proceedings from the First International Conference on 4D Materials and Systems are now available. ECS Transactions, volume 88, issue 1, contains 49 papers based on the research presented August 26-30, 2018, in Yonezawa, Japan. This issue covers the five parallel tracks held at the conference: (1) Gel Symposium, (2) Flexible and Printed Electronics, (3) Material Processing, (4) Electrochemical Materials and Devices for Energy Conversion and Storage, and (5) Sensors and Systems.
To browse the full table of contents, or purchase individual articles, please visit the ECS Digital Library. This issue is also available as an instant PDF download through the ECS Online Store.
In addition to the ECST issue, ECS is also publishing a JES Focus Issue on 4D Materials and Systems. For more information, or to submit your manuscript, see the focus issue Call for Papers.