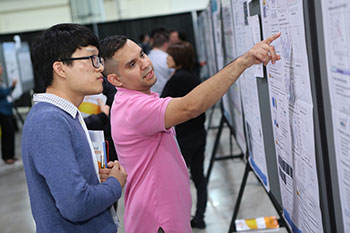 Join us as ECS comes to the Seattle Sheraton and Washington State Convention Center in Seattle, WA! Our strong technical program of 2,600 abstracts being presented in 46 symposia over five days will have something for everyone!
ECS meetings are well known for their strength in areas such as batteries/energy storage, fuel cells/energy conversion, carbon nanostructures, semiconductors, sensors, corrosion, and more. In addition, the Seattle meeting will explore newer areas such as materials recycling, data science for modeling and design, consumer products, and flexible electronics.
Take a moment and read a few topic close-ups, and see what is in store!
This is a can't miss event for electrochemists, solid state scientist, and engineers. We hope to see you there!

Take advantage of the housing block ECS has reserved for attendees at the Sheraton Seattle, the meeting headquarters. To reserve a room at the discounted rate of $199 per night, use the link below. The deadline for reservations is April 9, 2018 or until the block sells out.

PS: Get published! Every ECS meeting attendee has the opportunity to submit a full-text manuscript based on their meeting abstract to ECS Transactions. Get additional information, including submission deadlines.