ECS President | 1993-1994
ECS Treasurer | 1986-1990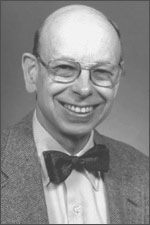 Robert P. Frankenthal was born in Berlin, Germany on September 11, 1930 and came to the U.S. in December 1938. He earned his B.S. degree in chemistry from the University of Rochester in 1952 and his Ph.D. in analytical chemistry from the University of Wisconsin in 1956.
In 1956, Dr. Frankenthal joined the Applied Research Laboratory of the U.S. Steel Corp. in Monroeville, PA to work on the corrosion of tin and tin plate. In 1960, he transferred to the Edgar C. Bain Laboratory for Fundamental Research of U.S. Steel, where he conducted research on passivation and localized corrosion of iron and ferrous alloys, mechanisms of electrode reactions, and application of new surface analytical and electrochemical techniques to corrosion research.
In 1972, Dr. Frankenthal joined AT&T Bell Laboratories at Murray Hill, NJ. He studied the aqueous corrosion, gaseous oxidation, passivation and protection of electronic materials and devices. In 1983, he received the Bell Laboratories Distinguished Technical Staff Award for Sustained Achievements. Dr. Frankenthal's work resulted in more than 100 publications and 6 patents. He also co-edited The Electrochemical Society Corrosion Monograph "Passivity of Metals" and several proceedings volumes.
Dr. Frankenthal was active in many aspects of Society affairs: Chair of Pittsburgh Section (1963-64), Corrosion Division Editor for Journal of The Electrochemical Society (1975-87), Corrosion Chair (1980-82), Society Treasurer (1986-90), Vice-President (1990-93), President (1993-94), and Chair of the Society Centennial Celebration Committee (1994-2002). He received the H. H. Uhlig Award in Corrosion Science of the Corrosion Division in 1989 and was elected Fellow of The Electrochemical Society in 1995.
Dr. Frankenthal received many other honors and awards: Fellow of NACE International (1994) and W. R. Whitney Award in Corrosion Science, NACE International (1997).
Dr. Frankenthal was a member of many government, university, and professional advisory panels. He was Communication Editor of the Journal of Materials Research. In 1970, he was Chair of the Gordon Research Conference on Corrosion.