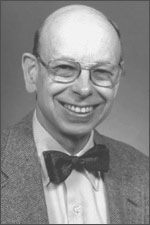 Robert Frankenthal has been a long-time supporter of The Electrochemical Society, an organization near to his heart and important to his career. With a 60-year membership under his belt, it is no wonder that Dr. Frankenthal decided to make a legacy gift to ECS by creating a charitable gift annuity that pays him income during his lifetime and provides a gift to ECS upon his passing.
As an electrochemist with a specialty in corrosion, Frankenthal looked to professional societies as a way to meet like-minded individuals and network for his research projects. Frankenthal found a sense of belonging with ECS.
"I really felt like I belonged. At meetings I always felt welcome and at home because of all the familiar faces; people would attend year after year, and we really got to know each other," Frankenthal said. "It started when I was asked to serve on the Executive Committee of the Pittsburgh Local Section and then the ECS Corrosion Division rising to the chair of each, and eventually I got involved at the Society level."
At that point, there was no stopping him, ultimately serving as President from 1993-94. He also served as chair of the 2002 Centennial Celebration.
You can read more about Frankenthal's credentials here.
Through his legacy gift to ECS, Frankenthal chose to support the 1994 Leadership Collection in the Journal of the Electrochemical Society. He knew it was important to give to ECS because of his good fortune and the knowledge that publishing independent research journals is highly competitive and expensive, but absolutely necessary.
"I always felt grateful to be a part of ECS," Frankenthal said. "I never had any expectation to be more than an ordinary member, but I always seemed to be at the right place at the right time."
Frankenthal has proven to be anything but an ordinary member. Over his lifetime he gave significant volunteer time to ECS and his planned gift will make a lasting imprint on the Society. With his gift he automatically becomes a member of the Carl Hering Legacy Circle, which recognizes individuals who have included ECS in their estate planning. ECS is extremely grateful for Frankenthal's leadership and philanthropic foresight.
Learn more about joining the Carl Hering Legacy Circle.