An editor who gives more than article feedback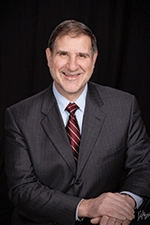 Robert Savinell has been engineering more than just high temperature proton conducting membranes for fuel cells and new approaches to flow batteries. In 1984 Savinell served as an associate editor for the Journal of The Electrochemical Society (JES), and about 30 years later in 2013 he was appointed as editor of JES. Since then, Dr. Savinell has not only been directing ECS's highly-respected editorial review process but he's also been helping ECS Free the Science by donating financially to our open access efforts.
"The ECS Free the Science initiative serves our Society, the electrochemical scientific field, and a broad community of researchers by opening up our literature to the world," Savinell says. "With the growth of competing and commercial publications, the role of professional societies is very important to preserve the rigor of the peer-review process, and ECS serves this role well."
Through his gifts Savinell has created the 2015 Leadership Collection for JES in the ECS Digital Library, just one way donors are able to help ECS to Free the Science. By supporting a specific year in the Digital Library, Savinell ensures that we maintain our high standards of publication as we transition to complete open access of all our publications, hopefully by 2024.
Savinell knew he wanted to be involved in ECS immediately after his first biannual meeting in 1978. "I realized that both the science and the scientists were important to me, and that ECS brought both together. The Society supports the electrochemical field as well as the individuals practicing in this field by assisting and promoting their professional growth."
Savinell has certainly found a home at ECS and the Society is grateful not only for his generous financial gifts but for his time as an editor and mentor to so many young professionals.
If you would like to find out more about creating a Leadership Collection in the ECS Digital Library please email development@electrochem.org.