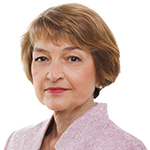 Meet Dr. Ingrid Milošev at the 242nd ECS Meeting "Meet the Editors" event. Dr. Milošev has been Associate Editor for the Corrosion Science and Technology section of the Journal of The Electrochemical Society since April 2022. She is Head of the Department of Physical and Organic Chemistry at the Jožef Stefan Institute in Ljubljana, Slovenia, where she has worked since 1987. Dr. Milošev received a BSc in Chemical Technology in 1986 from the University of Zagreb and a PhD in Chemistry in 1993 from the University of Ljubljana. Her interest in corrosion protection includes corrosion inhibitors, sol-gel coatings, conversion coatings, and inorganic coatings. She published almost 200 papers in peer-reviewed journals and nine book chapters. Her work has been cited over 10,000 times, with an h-index of 53. She completed almost 400 reviews for different journals.  
Don't miss your opportunity to connect with Dr. Milošev at the 242nd ECS Meeting during our "Meet the Editors" event. She can answer your questions on journal processes and discuss editorial opportunities and the vision for ECS Publications' growth—as well as her fascinating research.
SAVE THE DATE: Wednesday, October 12, 2022, 1730-1830h EDT
Meet the Editors
Connect with esteemed ECS journal editors on Tuesday and Wednesday evenings at the 242nd ECS Meeting booth.