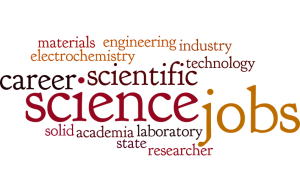 ECS's job board keeps you up-to-date with the latest career opportunities in electrochemical and solid state science. Check out the latest openings that have been added to the board.
P.S. Employers can post open positions for free!
Electroanalytical Sales Scientist
Pine Research Instrumentation – Durham, NC
The position encompasses critical aspects of sales and support for the electrochemical instrumentation product line offered by Pine Research Instrumentation. This position couples deep understanding of electrochemical science with the ability to communicate and interact with other people. Successful individuals in this position enjoy the unique chance to blend interpersonal skills (for sales and marketing purposes) with scientific knowledge (for technical support and advice).
PhD Student in Electrochemical Conversion of Biomass
Ohio University – Athens, OH
The Center for Electrochemical Engineering Research (CEER) at Ohio University is searching for PhD students to join a team of researchers working on electrochemical conversion of biomass. The successful candidate will develop materials and processes for electrochemical conversion of biomass to fuels and industrial chemicals, including developing electrocatalysts and reactor systems. Product stream analysis is an integral component of this program.
Fuel Cell Scientist
Lawrence Berkeley National Laboratory – Berkeley, CA
The fuel cell program at Lawrence Berkeley National Laboratory (LBNL) has a position available at the Career Research Scientist level in the area of advanced diagnostics and mathematical modeling for fuel-cell and related electrochemical systems. Depending on the level of experience, the person will serve as a Principal Investigator in the associated fuel cell work within the EERE and other funded Fuel Cell Technologies Program.
Postdoc in Microfabrication
Georgia Institute of Technology – Atlanta, GA
This is postdoctoral position at Georgia Tech in Atlanta, GA for up to two years. The topic concerns the microfabrication of new, passive electronic components into polymer-based substrates for electronic packaging. Of particular interest is the integration of high-value inductors and the introduction of new materials, including ferro-magnetic core and low dielectric constant insulators. The candidate should have experience in microfabrication including lithography and metallization.
PHD Position in Polymer Electrolyte Membranes
Lund University – Lund, Sweeden
PhD student position in Polymer Chemistry at the Department of Chemistry, Lund University in Sweden. Lund University has for a number of years been ranked among the world's top 100 universities. The project is focused on the synthesis and structure-morphology-property relationships of future polymer electrolyte materials for energy applications, and includes advanced synthesis and molecular characterization of new monomers and polymers, preparation of functional membranes, as well as studies of morphology and properties – especially directed towards use in fuel cells and batteries.
Polymer Electrochemical Scientist/Engineer
KEMET Electronics – Greenville, SC
The Advance Materials Group at KEMET Innovation center is seeking an experienced and highly motivated polymer scientist/engineer with in-depth understanding and experience in polymer chemistry, polymer coatings, and formulations. The successful candidate must have a demonstrated track record in developing novel polymeric materials with emphasis in electronics applications.
MSc or PhD Position in Electrode and Method Development
UQAM – Montreal, Canada
Development of new electrodes for brain-implants. A candidates with a working knowledge of French will be preferred.
Materials Research Intern
Cambrios Technologies Corporation – Sunnyvale, CA
We are looking for a passionate Research Scientist/Engineer intern for our Sunnyvale headquarters in the field of Nanotechnology, Materials Science, Chemistry, Chemical Engineering, and/or Polymer Science. We value creativity, innovation, initiative, high attention to detail and an ability to react quickly and positively to a changing fast moving environment.
Sales Manager
CHEMIONIC Labs & Consulting – New Brunswick, NJ
A good knowledge of customers who may be looking for our services will be beneficial. Typical customers are metal finishing and anodizing industries who are suppliers for aerospace, automobile, corrosion protection and building industries. The parts tested are typically plated/electroplated, coated, conversion coated or anodized parts.
MSc/PhD Position
Technion – Israel Institute of Technology – Haifa, Israel
The student(s) will carry out intensive research on anion exchange membrane based fuel cells and redox flow batteries. Focus will be on polymer chemistry of the membrane, or electrocatalysts for the fuel cells, or electrochemical behavior of the flow battery / fuel cell, depending on the background of the student.
Electrochemist
YTC America Inc. – Camarillo, CA
YTC America Inc. (YTCA), the North American corporate research and development center of Yazaki Corporation is seeking a talented and highly motivated individual to fill the position of Electrochemist within its EDLC Electrochemical R&D Group. The individual will become part of an interdisciplinary team of scientists and engineers developing and evaluating advanced electrochemical double layer capacitors (EDLCs) for energy storage and generation applications.
Synthetic Chemist
University of Notre Dame – Notre Dame, IN
Chemist needed in Notre Dame/Michiana area (near Chicago) for synthesis of germylmethane based compounds, which will then be used to make new semiconductor materials (applications in photonics/solar). Previous experience in synthesis and characterization of small molecules is a must, along with knowledge and implementation of appropriate safety protocols that includes nearby lab users.
Arizona State University Postdoctoral Positions
Arizona State University – Tempe, AZ
Professor Karl Sieradzki has openings in his group for postdoctoral researchers in computational materials science connected to dealloying/corrosion and experimental analytical electrochemistry/corrosion.