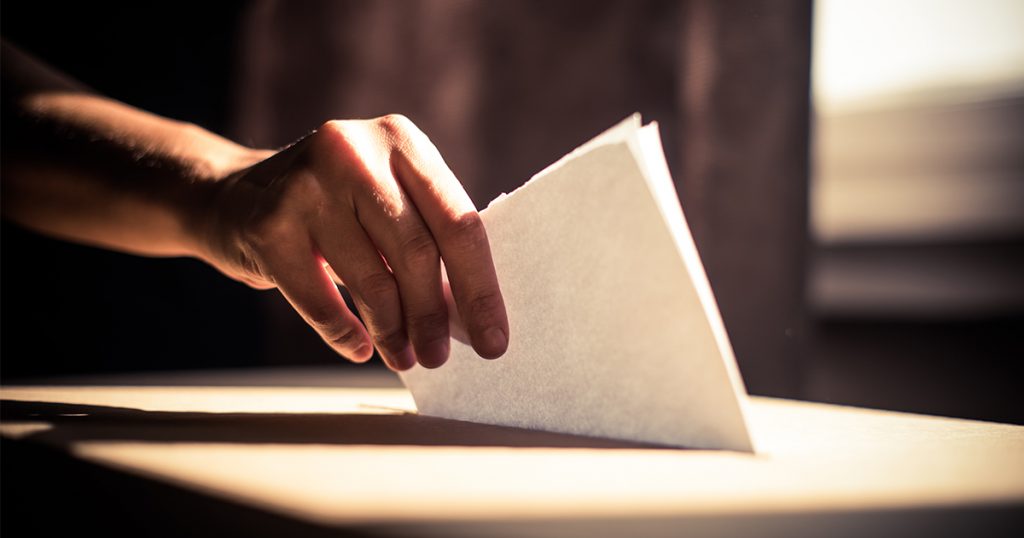 The ECS Twin Cities Section held its 2022 Officer Election in March. Thank you to everyone who voted in the election; and thank you to the new officers for serving their section.
Announcing the new ECS Twin Cities Section officers
Chair: Victoria Gelling, Sherwin-Williams
Vice Chair: Vincent Chevrier, Partner, Cyclikal; CTO, Trion
Secretary: Peter Zhang, Medtronic
Treasurer: Hui Ye, Medtronic
Members-at-Large:

Bill Howard, ECS Emeritus Member
Lifeng Dong, Hamline University
Alan Shi, Medtronic
Delenn Fingerlow, Sherwin-Williams
More about the ECS Twin Cities Section's new officer slate 
Chair – Vicki Gelling, Sherwin-Williams
After completing a PhD in Chemistry at North Dakota State University (NDSU) with Dr. Dennis E. Tallman, Dr. Gelling joined the faculty of NDSU's Department of Coatings and Polymeric Materials. Her research focused on the use of electrochemical methods for coatings and corrosion. In 2014, she moved to industry, first at Valspar, followed by her current position as Research Fellow in the Performance Coatings Group Innovation Team at Sherwin-Williams.
Vice Chair – Vincent Chevrier, Partner, Cyclikal; CTO, Trion
Dr. Chevrier completed his PhD in Physics at Dalhousie University with Professor Jeff Dahn, and postdoc at the Massachusetts Institute of Technology with Prof. Gerbrand Ceder. He joined 3M in 2010, focusing on the optimization, production, and scale-up of materials for Li-ion batteries. In 2018, he founded the battery research and consulting company, Cyclikal, with Larry Krause. In 2021, Dr. Chevrier also joined Trion as CTO to lead the commercialization of silicon-based materials for Li-ion batteries.

Secretary – Peter Zhang, Medtronic
Dr. Zhang completed his PhD in Electrochemistry and Corrosion at the University of Science and Technology, Beijing. He worked at several universities as an Assistant and Associate Professor, Postdoctoral Fellow, and Senior Research Scholar. In 2000, Dr. Zhang joined Visteon as a materials and corrosion scientist. He joined Medtronic in 2007, where he works on the reliability of lithium batteries for implantable devices.
Treasurer – Hui Ye, Medtronic
Dr. Ye is Senior Principal Scientist at Medtronic Energy and Component Center. He completed a PhD in Material Science and Engineering at Rutgers University with Dr. John Xu. Dr. Ye joined Laird Technologies as Staff Scientist in 2007, working on electromagnetic interference solution materials. In 2010, he joined the R&T group of Medtronic Energy and Component Center focusing on developing advanced Li primary batteries and rechargeable Li-ion batteries.
Members at Large
Bill Howard, ECS Emeritus Member
Dr. Howard has been active in the ECS Twin Cities Section since its inception. The ECS Emeritus Member's R&D activities included electrochemical devices, fuel cells, and batteries. He has been involved in lithium primary and secondary research for over a half century. He retired from Medtronic.
Lifeng Dong, Hamline University
Dr. Dong is the Emma K. and Carl R. N. Malmstrom Endowed Chair in Physics, and Department Chair at Hamline University. Prof. Dong currently works with his collaborators and students to design, synthesize/fabricate, and characterize nanoscale materials and devices (including solar cells, fuel cells, supercapacitors, lithium batteries, field effect transistors, and biosensors) for energy conversion and storage as well as water purification and desalination.
Alan Shi, Medtronic
Alan Shi is Senior Principal Materials Engineer and Technical Fellow at Medtronic Neuromodulation. He serves as subject matter expert in electrochemistry, corrosion, electrode safety and performance, and electrode technology to enhance therapy delivery and sensing. He received his PhD in Materials Engineering from the Pennsylvania State University.
Delenn Fingerlow, Sherwin-Williams
Fingerlow is an R&D Chemist focusing on corrosion chemistry for Sherwin-Williams. She graduated with a BS in Chemistry from Chatham University in 2018 and has worked in the field of coatings research ever since. Her research started with the study of photochromic compounds in liquid-crystal monolayers before transferring to electrochemistry when she moved to Minneapolis in 2020.
Terms of office
The new Society officers' terms of office shall be two years or until their successors have been qualified. Their terms of office begin at 0800h ET on January 1 of the calendar year following the election.
Join us in congratulating the new ECS Twin Cities Section officers and wishing them well at the start of their terms!
ECS sections
ECS sections offer many opportunities for members to engage and expand their professional networks. Not a section member? Email customerservice@electrochem.org and ask to join your region's ECS section.