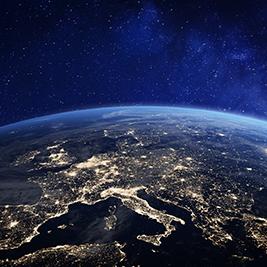 Topic Close-up #3
Symposium Z04: Electrochemistry in Space
Symposium focus: Recent growth in space-related activities have presented numerous opportunities for electrochemistry in space. Space exploration, resource utilization, environmental controls, and satellite operation present many technical challenges and opportunities where electrochemistry will play a critical role. This inaugural symposium on Electrochemistry in Space will bring together researchers and technology developers across a broad array of disciplines to discuss recent developments in technology and science related to electrochemistry in space. Interested contributors are encouraged to submit relevant abstracts in topics including, but not limited to, electrochemical power sources, sensors, processes for environmental controls, energy storage, and in situ resource utilization.
Don't miss out! This inaugural symposium is sponsored by numerous ECS Divisions and the Interdisciplinary Science and Technology Subcommittee and will provide an exciting new venue for a wide range of speakers to come together to discuss how electrochemistry developments can impact the future of space activities and development. A plenary session of leading developers for electrochemical technology in space will start the symposia followed by breakout sessions in a range of areas as highlighted by the topics above.
---
For additional information on this topic close-up and more, check out the full call for papers with all the 236th ECS Meeting topics being held in Atlanta, GA on October 13-17, 2019.