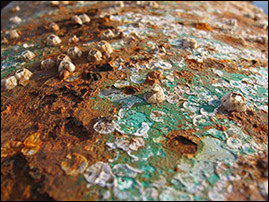 Interested in the corrosion field? Review our list of symposia on that and related topics taking place at the 244th ECS Meeting from October 8-12, 2023, in Gothenburg, Sweden. Submit your abstract and join us!
Submit your abstract
Submission deadline: April 7, 2023
These exciting symposia focus on corrosion topics:
C01—Corrosion General Session
C02—Corrosion in Nuclear Energy Systems: From Cradle to Grave 3
C03—Metallic, Organic, Inorganic, and Composite Coatings for Corrosion Protection
C04—Analytical Tools in Corrosion Research
Call for Papers
See the Call for Papers for detailed information!
Check these related topics:
I01—Polymer Electrolyte Fuel Cells and Electrolyzers 23 (PEFC&E23)
I03—High Temperature Corrosion and Materials Chemistry 15
L09—Physical and Electrochemical Processes at Flow Battery Electrodes
L10—Interfacial Analysis for Energy Storage
Z01—General Student Poster Session
Z03—Young Researchers in Europe: A Special Symposium and Workshop
---
PS: Know someone interested in corrosion? Forward this link to them!