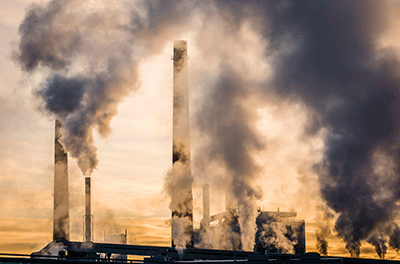 After remaining steady for three years, global fossil fuel emissions are rising again and may increase again next year. But improved energy efficiency and a booming renewables market may offer a bit of a silver lining.
"This year's result is discouraging, but I remain hopeful," says Rob Jackson, professor at the School of Earth, Energy & Environmental Sciences at Stanford University and chair of the Global Carbon Project, which released a series of reports in Environmental Research Letters.
"In the US, cities, states, and companies have seized leadership on energy efficiency and low-carbon renewables that the federal government has abdicated."
The report appears with data published simultaneously in an Earth System Science Data Discussions paper led by Corinne Le Quéré of the University of East Anglia, who is also part of the Global Carbon Project.
Together, they forecast that global fossil fuel emissions will reach a record 37 billion tons of carbon dioxide in 2017, with total emissions reaching a record 41 billion tons, including deforestation. Atmospheric carbon dioxide concentration reached 403 parts per million in 2016, and is expected to increase by 2.5 parts per million in 2017.
Leading that increase is China, where emissions are projected to grow by approximately 3.5 percent in 2017. Coal use there is up an estimated 3 percent, oil use is up 5 percent, and natural gas use is up nearly 12 percent.
"The green economy is booming in China and elsewhere, but growing energy demands are also being met with new oil, coal, and natural gas infrastructure," Jackson says.
Jackson led a second study for the Global Carbon Project on carbon dioxide removal from the atmosphere that appears in the same journal and a related commentary in Nature Climate Change on tracking emissions to the Paris agreement.
Carbon dioxide concentrations in the atmosphere have increased from approximately 277 parts per million at the beginning of the Industrial Era to 403 parts per million as of 2016.
Deforestation and land-use change drove those increases until about 1920, when fossil fuel use became the dominant source of carbon emissions. In the past decade, fossil fuels and industry have accounted for 88 percent of total carbon emissions.
Between 2014 and 2016, emissions barely budged despite a growth in global gross domestic product. This marked the first time that global emissions were decoupled from economic output—a development driven by reduced coal use in the United States and China, as well as energy efficiency improvements and growth in renewable energy around the world.
Carbon dioxide emissions have decreased despite growing economic activity in 22 countries representing 20 percent of global emissions. Among them, the United States is expected to see a 0.4 percent decline in emissions this year, and the European Union 0.2 percent.
Still, overall global carbon emissions are unlikely to decrease in 2018. Although India's emissions are projected to grow by just 2 percent this year—a dramatic shift from over 8 percent per year during the last decade—they could easily bump up rapidly if its economy recovers from a recent downturn. Elsewhere, World Bank forecasts for growth in global GDP could have similar effects on emissions.
Growth in renewables and improved energy efficiency still provide reasons to be optimistic. Countries installed a record amount of renewable generating capacity in 2016, and 2017 should see another record set.
"Prices for wind and solar power are plummeting, and batteries and storage are helping to balance supply and demand for electricity," Jackson says. "The world's energy future is changing before our eyes."
Jackson is a senior fellow at the Stanford Woods Institute for the Environment and the Precourt Institute for Energy.
---
This article appeared on Futurity. Read the article.
Source: Stanford University
Original Study DOI: 10.5194/essd-2017-123