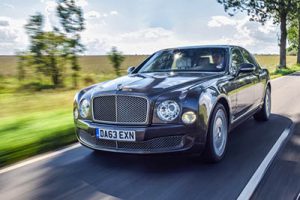 High-end, high-class, and high-cost are all words synonymous with the word Bentley. The luxury car CEO Adrian Hallmark says he plans to keep it that way, and for that reason, he's giving the inclusion of electric vehicles to the Bentley family the red light—for now.
Hallmark says battery technology has not evolved to the point where it would be possible to develop an ultraluxury electric vehicles, according to Tires and Parts.
The CEO says the battery cell power density currently available limits the size of the car and driving range, but that doesn't mean he envisions a future without electrically runned Bentleys, on the contrary, to Hallmark, it's all about timing.
In an interview with Automotive News Europe, Hallmark said he does not believe electric vehicle battery technology will be advanced enough to power a pure electric Bentley until around 2023 to 2025. For that reason, he'll wait it out.
Although, Hallmark says he is fully aware that 40 percent of Bentley customers would consider switching to an electric car.
But, it will be worth the wait according to the CEO. He says once the technology is ready, Bentley's first electric car would likely "redefine grand touring" with a long cruising range.
"When we build an electric car it will be a Bentley first and foremost, and it will be an electric Bentley second," says Hallmark.
Bentley is not alone. Advanced industrial and consumer electronics devices are demanding more energy storage and increasingly higher lithium-ion battery (LIB) specific energy and power densities. Researchers are working hard to find new, innovative ways to advance the technology. Having a better understanding of battery safety and failure modes enables cell and system design improvements, performance enhancements, and facilitates regulatory approvals of advanced LIB power systems, which is why ECS is seeking abstracts on battery safety and failure modes for the 235th ECS Meeting.
The meeting offers a space for scientists, engineers, and industry leaders around the world to come together and share the latest scientific and technical developments in electrochemistry and solid state science and technology. Don't miss the opportunity to discover your community.
(MORE: Read Interface: PV, EV, and Your Home)
Subhash C. Singhal, ECS member since 1976 and ECS Fellow, discusses the future of solid oxide fuel cells and more on ECS's podcast. Listen below.
Download this episode and others for free on the iTunes Store (search "ECS Podcast"), SoundCloud, or our RSS Feed.