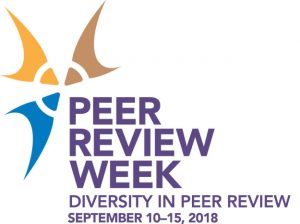 Join ECS as it celebrates Peer Review Week 2018 (September 10-15), the fourth annual installment of an international event dedicated to recognizing and examining the pivotal role that peer review plays in scholarly communication.
The theme of this year's Peer Review Week is "Diversity in Peer Review." The week's events, which will consist of in-person seminars, webinars, interviews, and social media activities, will focus upon the importance of diversity and inclusion in peer review.
Get involved
Keep up with what's happening during Peer Review Week by exploring the event site.
The in-person and virtual events scheduled throughout the week will address a wide array of topics related to peer review, from diversity and inclusion to ORCID and why you should be a peer reviewer.
See the full list of Peer Review Week 2018 events.
Can't make any of the events? You can still join the conversation by tweeting @PeerRevWeek and following #PeerReviewWeek18 and #PeerRevDiversityInclusion.
ECS thanks its peer reviewers
The success of ECS journals is greatly dependent upon the expertise, judgment, and commitment of the Society's peer reviewers. Their rigorous work sustains the high quality of ECS journals and contributes to the continual expansion of their reach. Learn more about the increasing influence of ECS journals.
In the spirit of Peer Review Week, ECS would like to thank all of the individuals who serve or have served as reviewers of the Society's journals. See a full list of ECS's 2017 reviewers.
These individuals have demonstrated a tenacious commitment to both scientific integrity and the pursuit of a sustainable future. Their contributions to the advancement of the Society's mission cannot be overstated.
Become a peer reviewer for ECS
Interested in becoming a peer reviewer for ECS? Contact publications@electrochem.org to learn how.