Call for Papers
ECS Journal of Solid State Science and Technology
Focus Issue on Photovoltaics for the 21st Century II


The ECS Journal of Solid State Science and Technology is publishing a special collection of invited and innovative papers which were presented at the 30th International Photovoltaic Science and Engineering Conference (PVSEC-30) & Global Photovoltaic Conference 2020 (GPVC 2020).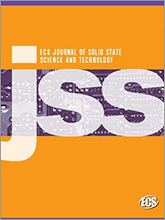 This virtual focus issue covers a whole spectrum of cell technologies from silicon to thin-films as well as emerging technologies. Topics of interest include, but are not limited to:
Perovskite, organic, quantum dot, and hybrid solar cells;
Si, chalcogenide thin film, and compound semiconductor;
Nanotechnology for advanced photovoltaics;
Analysis and characterization for photovoltaics;
Design and synthesis of novel compounds for advanced photovoltaics;
Spectrum conversion for photovoltaic devices;
Devices and materials for scalable manufacturing, stability and performance;
Solar fuel, module, system, and reliability.

Reviews, critical reviews, and perspective papers are welcomed.
Accepting Submissions: December 10, 2020 | Submission Deadline EXTENDED: April 25, 2021
(At the time of submission, indicate that the paper is intended for the Photovoltaics for the 21st Century II focus issue.)
Visit the ECS website for author submission instructions and requirements of each article type.
This is the second focus issue in a series. Read published papers from the first issue, JSS Focus Issue on Photovoltaics for the 21st Century, which is now in production.
---
Guest Editors
Jae-Joon Lee, Dongguk University, South Korea | jjlee@dongguk.edu
Doo-Hyun Ko, Kyung Hee University, South Korea | dhko@khu.ac.kr
Yoonmook Kang, Korea University, South Korea | ddang@korea.ac.kr
Hyeok Kim, University of Seoul, South Korea | hyeok.kim@uos.ac.kr
Associate Editor
Meng Tao, Arizona State University, USA | meng.tao@asu.edu
Technical Editor
Fan Ren, University of Florida, USA | fren@che.ufl.edu
Editor-in-Chief
Krishnan Rajeshwar, The University of Texas at Arlington, USA | rajeshwar@uta.edu
---
NEW FOR 2020: If selected at submission, accepted papers are published online in the ECS Digital Library within 24 hours of scheduling for publication. The version of record is published online within approximately 10 days of final acceptance.
As part of the Author Choice Open Access program, authors can select to have their papers published as open access. There are no article publication charges for articles submitted before the end of 2020 that are accepted for publication in the journal. Articles are published in a standard issue of the journal as they are accepted. The focus issue is curated online with the final article published by August 2021.