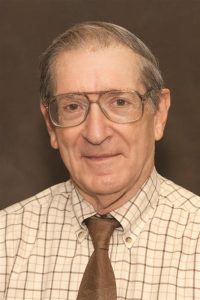 Indiana University Bloomington celebrates Peters' life and legacy
The Department of Chemistry and the College of Arts + Sciences at Indiana University Bloomington invite you to the Dennis G. Peters Memorial Symposium featuring scientific talks from Professor Peters' colleagues and former graduate students followed by memorial talks from Professor Peters' friends and family. The in-person event is sponsored by The Electrochemical Society.
To register and receive up-to-date information, please register now. 
Event Details
Date
April 15, 2023
Locations
Indiana Memorial Union
900 East Seventh Street
Bloomington, IN 47405
Chemistry Building
800 East Kirkwood Avenue
Bloomington, IN 47405
Cost
Free of charge
Lodging
Guests are responsible for their own lodging. A block of rooms is reserved at the Indiana Memorial Union Biddle Hotel. Contact the hotel to reserve a room at 800-209-8145 or on the hotel website.
Questions and for more information
Email the IU Chemistry chair's office at chemchr@indiana.ed.
Organizers
Steve Tait, Department Chair, Chemistry; Professor, Chemistry; Adjunct Professor, Physics; Associate Director, IU Electron Microscopy Center, Indiana University Bloomington
Stephen Jacobson, Professor, Chemistry; Dorothy and Edward Bair Chair, Chemistry, Indiana University Bloomington
Eric McKenzie, Teaching Assistant Professor, Chemistry, University of North Carolina at Charlotte
Amanda Ciccarelli, Chief-of-Staff, Office of the Executive Dean, College of Art, Indiana University Bloomington
Dennis G. Peters 
Dr. Peters was a cherished member of the Chemistry Department at Indiana University Blooming tonfor almost 60 years. He taught 15,000 undergraduate students (regularly teaching the introductory chemistry course for freshmen science majors), published five text books that have been translated into multiple languages and sold over 120,000 copies worldwide, mentored over 40 graduate students in his research group, had approximately 30 undergraduates as co-authors on his publications, and had been intimately involved with high school chemistry programs around the state. Dr. Peters was a Fellow of The Electrochemical Society.