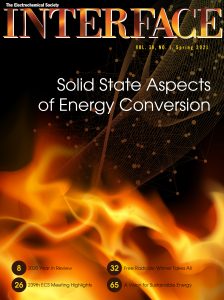 The ECS Interface spring 2021 issue is now available to read online. This issue marks the 30th volume of the quarterly publication and features the theme: Solid State Aspects of Energy Conversion. Paul A. Maggard, Associate Professor, North Carolina State University's Department of Chemistry, is our guest editor. Rob Kelly, Interface Editor, would like to give you a first glimpse into our recent issue.
Special Features
Solid State Aspects of Energy Conversion
by Paul A. Maggard
In Search of the "Perfect" Inorganic Semiconductor/Liquid Interface for Solar Water Splitting
by Krishnan Rajeshwar, Paul A. Maggard, and Shaun O'Donnell
Synthesis as a Design Variable for Oxide Materials
by Jack Vaughey, Steve Trask, and Ken Poeppelmeier
Electrodeposition as a Powerful Tool for the Fabrication and Characterization of Next-Generation Anodes for Sodium Ion Rechargeable Batteries
by Nathan J. Gimble,* Kelly Nieto,* and Amy L. Prieto
A Vision for Sustainable Energy: The Center for Hybrid Approaches in Solar Energy to Liquid Fuels (CHASE)
by Jillian L. Dempsey, Catherine M. Heyer, and Gerald J. Meyer
Technical Articles
Newman and Balsara on Electrochemical Systems Fourth Edition
by Frances Chaves
Free Radicals: Winner Takes All
by Krishnan Rajeshwar
Looking at Patent Law: Patenting a Solid State Lithium-Metal Battery – A Case Study
by E. Jennings Taylor and Maria Inman
Issue Highlights
2020 Year in Review
The ECS Community on Adapting, Advancing, and Overcoming the Pandemic
by Frances Chaves
Community News: Society News, People News, Section News, Student News
Highlights of the 239th ECS Meeting with IMCS 18
Call for Papers: 240th ECS Meeting
A special shout out to our spring 2021 issue advertisers: don't miss their recent offerings!
ECS Transactions 239th ECS Meeting with IMCS 18
Please enjoy the full issue of Interface here.