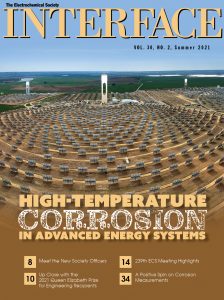 The ECS Interface summer 2021 issue is now available to read online. This issue features the theme: High-Temperature Corrosion in Advanced Energy Systems. Dev Chidambaram, Professor of Chemical and Materials Engineering, University of Nevada, Reno, is our guest editor. Rob Kelly, Interface Editor, would like to give you a first glimpse into our recent issue.
Special Features
High-Temperature Corrosion in Advanced Energy Systems
by Dev Chidambaram
Corrosion in Advanced Nuclear Reactors
by Gary S. Was and Todd R. Allen
Corrosion in Molten Salts for Solar Thermal Power
by Kodi Summers and Dev Chidambaram
Corrosion by Hot CO2 Gases
by David J. Young and Jianqiang Zhang
Perseverance Rover Lands on Mars
by E. Jennings Taylor and Gregory S. Jackson
Technical Articles
The Chalkboard: A Positive Spin on Corrosion Measurements: The Rotating Ring-Disk Electrode
by James Noël
Looking at Patent Law: Patenting an Electrochemical Nondestructive Corrosion Evaluation System for Ships, Buildings, and Bridges – A Case Study
by E. Jennings Taylor and Maria Inman
Tech Highlights
by Joshua Gallaway, Mara Schindelholz, David McNulty, Chao (Gilbert) Liu, Chock Karuppaiah, and Donald Pile
Issue Highlights
2020 Year in Review
Meet the New 2021 Society Officers
Nakamura, Craford, and Dupuis on the 2021 QEPrize for Engineering
by Frances Chaves
Journal Patent Citations – A New Paradigm for Journal Quality?
by Daniel L. Parr IV, Christopher J. Jannuzzi, E. Jennings Taylor, and Johna Leddy
Highlights of the 239th ECS Meeting with IMCS 18
Community News: Society News, People News, Section News, Student News
A special shout out to our summer 2021 issue advertisers: don't miss their recent offerings!
ECS Transactions 239th ECS Meeting with IMCS 18
Please enjoy the full issue of Interface here.