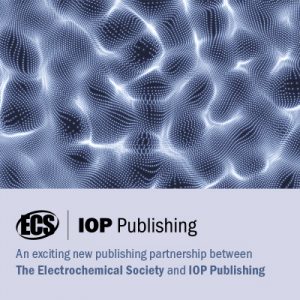 ECS's publishing partnership with IOP Publishing (IOPP) takes effect on January 2, 2020, providing exciting new benefits for authors and readers. The Journal of the Electrochemical Society and the ECS Journal of Solid State Science and Technology move to the IOPP platform, IOPscience, and ScholarOne submissions system. IOPP hosts ECS Transactions, ECS Meeting Abstracts, and Interface; and hosts the archives of ECS's retired publications—ECS Electrochemistry Letters, ECS Solid State Letters, Electrochemical and Solid State Letters, and ECS Proceedings Volumes.
Welcome to 21st Century Publishing!
ECS has over 117 years of experience creating outstanding, peer-reviewed periodicals, conference proceedings, and magazines. IOP Publishing— the Institute of Physics' publishing company—shares ECS's commitment to ensuring the technical quality of the works published, as well as the integrity and validity of the peer review provided by the ECS community. The partnership provides tangible benefits for authors and readers—and  is an important step to accomplishing ECS's Free the Science initiative: universal platinum open access to ECS journals—free to publish and free to read for all.
Benefits for Authors
The transition to IOPP is already in progress. Starting on December 4, 2019, authors submit articles to JES and JSS using ScholarOne, a comprehensive workflow-management system for scholarly journals. Before December 4, authors' information has been moved to the new system.  Authors only have to create a new password, and then save their preferences and update areas of research interest. This transition for ECS journals gives authors many added benefits. Authors can:
Use the "Track Your Article" service to see where their manuscript is in the peer review and editing process. Simply input the article ID into the tool on IOPP's Publishing Support website.
Make proofing simple with the "Online Proofing" service. Keep edits to proofs in one place; track changes while typing; and add comments for the production editors directly to the page.
Take advantage of "Accepted Manuscripts" which makes the paper available online, fully citable and securely indexed, within 24 hours of acceptance.
Existing manuscripts submitted by December 2, 2019, which are already in peer review or pending revision, remain in the current ECSxPress (ExP) system for completion of the review process.
Benefits for Readers
As of January 2, 2020, ECS articles are available from IOPscience. The online service for journal content published by IOPP, IOPscience constantly embraces innovative technologies to make it easier for researchers to discover relevant content and manage their research information. When looking for and reading ECS research, readers can:
Search quickly and easily for relevant articles from both ECS's and IOPP's portfolios, including filtering for open access content only.
Easily export figures and references to multiple formats, including PowerPoint.
Measure every article's global impact through Altmetric and Dimensions statistics.
How to use the new ScholarOne system for the first time
Authors who have previously published with or reviewed for ECS receive an email confirming that their details have been transferred to the shared database. Once this email has been received, log in to ScholarOne for the first time:
The username is the email address used to contact the member.
To set your own password, use the "Reset Password" link.
When logging in, please take time to check that the contact information is up-to-date and that the "Keywords" field includes current research interests.
Questions or concerns
Please contact the ECS publications staff at publications@electrochem.org.