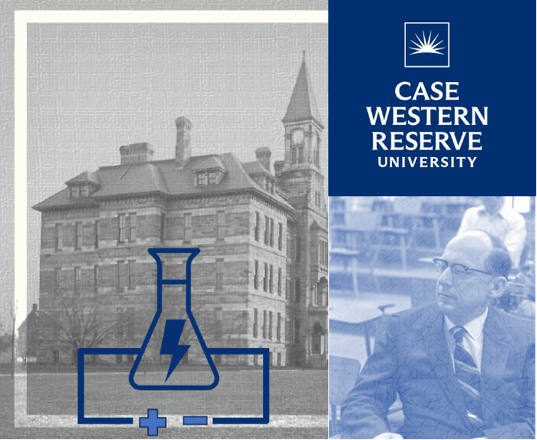 The Journal of The Electrochemical Society is publishing a collection of papers on celebrating electrochemistry and electrochemical engineering at Case Western Reserve University (CWRU).
CWRU has a strong history in electrochemistry and electrochemical engineering with past and present faculty, staff, and alumni in academia, industry, and national laboratories advancing the field in electrochemistry and electrochemical energy storage, electrodeposition, corrosion, bioelectrochemistry, electrochemical sensors, and electrocatalysis. This focus issue celebrates electrochemistry and electrochemical engineering at CWRU with contributions anticipated from CWRU faculty, alumni, and friends.
Review, critical review, perspective, methods, communication, and original research articles are solicited in the topical interest areas of:
Batteries and Energy Storage
Corrosion Science and Technology
Electrochemical/Electroless Deposition
Electrochemical Engineering
Organic and Bioelectrochemistry
Physical and Analytical Electrochemistry, Electrocatalysis, and Photoelectrochemistry
Sensors
Accepting Submissions: February 1, 2024 | Submission Deadline: June 3, 2024
---
Guest Editors
Burcu Gurkan, Case Western Reserve University, U.S. | beg23@case.edu
Robert Warburton, Case Western Reserve University, U.S. | rew134@case.edu
Joshua Gallaway, Northeastern University, U.S. | j.gallaway@northeastern.edu
Ertan Agar, University of Massachusetts Lowell, U.S. | Ertan_Agar@uml.edu
Mallory Miller, Moses Lake Industries, U.S. | mmiller@mlindustries.com
Andrea Bourke, Technological University of the Shannon TUS, Ireland | andrea.bourke@tus.ie
Nicholas Sinclair, Case Western Reserve University, U.S. | nss20@case.edu
Technical Editors
Doron Aurbach, Bar-Ilan University, Israel | Doron.Aurbach@biu.ac.il
Sannakaisa Virtanen, Universität Erlangen-Nürnberg, Germany | virtanen@ww.uni-erlangen.de
Takayuki Homma, Waseda University, Japan | jes@ec.appchem.waseda.ac.jp
Paul Kenis, University of Illinois Urbana-Champaign, U.S. | paul.kenis@electrochem.org
Minhua Shao, Hong Kong University of Science and Technology, Hong Kong | kemshao@ust.hk
Janine Mauzeroll, McGill University, Canada | Janine.mauzeroll@mcgill.ca
David E. Cliffel, Vanderbilt University, U.S. | paeepeditor@vanderbilt.edu
Stefano Cinti, Università degli Studi di Napoli Federico II, Italy | stefano.cinti@unina.it
Editor-in-Chief
Robert Savinell, Case Western Reserve University, U.S. | rfs2@case.edu
---
Articles are published in a standard issue of the journal as they are accepted. If selected at submission, accepted papers are published online in the ECS Digital Library on IOPscience within 24 hours of scheduling for publication. The version of record is published online within approximately 10 days of final acceptance.
Visit the ECS website for author submission instructions and requirements for each article type.
OPEN ACCESS: Authors choosing to publish open access agree to pay an article processing charge (APC) if their papers are accepted. APCs are discounted by 75 percent for ECS members and waived for authors from ECS Plus subscribing institutions. Check if your institution subscribes to ECS Plus. Discounts are applied at the time of payment.