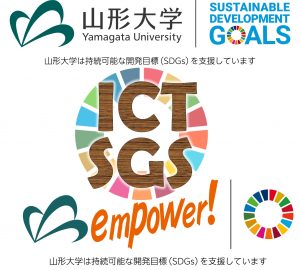 The First International Conference on Smart Green Connected Societies 2021 (ICTSGS-1) sponsored by ECS takes place virtually on November 29 and 30, 2021, JST.* This biannual conference, founded by Professors Hidemitsu Furukawa and Ajit Khosla of Yamagata University, Japan, is dedicated to the cause of the United Nations Sustainable Development Goals (SDGs). The purpose of the conference is to engage, bring awareness, and empower stakeholders such as students, scientists, academics, and industry at the grassroots level, thereby accelerating Ecosystem Restoration and SDGs.
Abstracts
Response to the call for abstracts has been overwhelming with more than 3317 submissions from 26 countries. After rigorous peer review by at least two experts, a total of 2011 abstracts were accepted for the conference, bringing the total acceptance ratio to 60.62 percent.
Program
The program is organized into plenary lectures followed by ten parallel conference track sessions.
Parallel tracks
Track 1. SF: Sustainable Food Security
Track 2. NS: Natural Sciences
Track 3. NB: Biology
Track 4. ES: Environmental Sciences
Track 5.  SE: Sensors & Wearable Devices
Track 6. SED: Energy Conversion & Storage
Track 7. GM: Materials, Micro & Nano Systems
Track 8. GE: Sustainable Engineering
Track 9. SM: Sustainable Management and Humanities
Track 10. GS: General Session – Technologies for Smart Green Connected Societies
Plenary Lectures
The plenary lectures by global experts are highlights of the conference.  
Convergence of Engineering with Quality of Life for Everyone: Fourth Industrial Revolution and Sustainable Development Goals – Larry A. Nagahara, Associate Dean of Research, John Hopkins University, US
Printed and textile-based sensor technologies for health and well-being – Bonnie L. Gray, Professor, School of Engineering Science, Simon Fraser University, Canada
Sustainability – Anil Sahasrabudhe, Chairman, All India Council for Technical Education, India
Climate change and security in reality and in academia – Yasuko Kameyama, Director, National Institute for Environmental Studies, Japan
The Fall and Rise of Organic Solar Cells – Vinay Gupta, Assistant Professor, Khalifa Institute of Science and Technology, UAE
Sensors and Sustainability – Thomas Thundat, Empire Innovation Professor, University of Buffalo, US
Biosensors for Visible Detection of Food Quality and Safety – Sundaram Gunasekaran, Professor, University of Wisconsin – Madison, US  
Printed Sensors and Electronics for Sustained Human Spaceflight – Jessica Koehne, Senior Scientist, NASA Ames Research Center, US
Climate change and security in reality and in academia – Kensuke Hirota, WIPO (World International Property Organization) Green, Japan
Heterogenous Sensor Systems: The Next Frontier for Intelligent Electronic Systems – Navakanta Bhat, Dean of Research, Indian Institute of Science, India
Awards
Our academic and industry partners will present a total of 42 awards to students, early career researchers, and women pursuing sustainable development goals.
ECS Transactions
The submission site for the ECS Transactions ICTSGS-1 volume is open through December 19, 2021. Please submit your full text manuscript at your earliest opportunity as absolutely no manuscripts submissions are accepted after this date.
Address questions and requests for information regarding ECS Transactions submission to office@spast.org.
More information about the conference is available on the ICTSGS-1 website.
* Japan Standard Time (JST) is 14 hours ahead of Eastern Standard Time (EST) and 17 hours ahead of Pacific Standard Time (PST). Time conversions are provided in the conference program.