Save the date: Sunday, April 3 – Sunday, April 10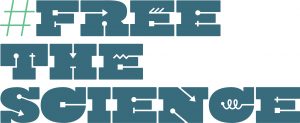 When the ECS Digital Library on IOPscience paywall comes down on April 3, it's your opportunity to access over 165,000 scientific journal and magazine articles and meeting abstracts at no cost. Free the Science Week 2022 is the sixth year that the Society puts into action its long-term vision of providing access to all in order to accelerate the advancement of scientific research.
Removing restrictions to research
Free the Science moves beyond the old restrictive publishing paradigm of "pay to publish, pay to read." Today, ECS authors can choose to publish their work as open access at no cost through programs including ECS institutional membership benefits and affiliation with an ECS Plus member institution. In 2021, 31 percent of all articles published by ECS were open access.
The Society expanded its commitment to Free the Science in 2022 by adding two new gold open access journals to its family of high-quality publications. ECS Sensors Plus and ECS Advances create new publication pathways for authors who must publish in open access journals.
ECS Sensors Plus is a multidisciplinary, open access journal that provides an international platform to publish high-quality impactful articles, and promote scholarly communication and interactions among scientists, engineers, and technologists whose primary interests are focused on mechanisms, materials, structures, properties, performance, and characterization of sensing and detection devices and systems, including sensor arrays, networks, and actuators. 
ECS Advances is a multidisciplinary, gold open access journal of high-quality, peer-reviewed content, covering all of ECS's technical areas. It carries the broadest dissemination of electrochemical and solid state science and technology content among all journals in the field, coupled with rigorous peer review.
Benefits of open access
Open access allows scientific research to disseminate more rapidly and widely. This leads to more citations so new research has a bigger, faster impact, resulting in more new ideas. Industry around the world accesses more research and economies benefits. In the fields of electrochemistry and solid state science and related technologies, this translates into positive global advances in renewable energy, clean water, food safety, medical care, and more.
Ready, set, download
The ECS Digital Library on IOPscience houses a staggering wealth of renowned peer-reviewed research, including ECS's flagship publication, Journal of The Electrochemical Society, published continuously since 1902, and the ECS Journal of Solid State Science and Technology, ECS Electrochemistry Letters, ECS Solid State Letters, Electrochemical and Solid-State Letters, ECS Transactions, ECS Meeting Abstracts, ECS Proceedings Volumes, Interface, and soon, content from ECS Sensors Plus and ECS Advances.
Feed your creative mind when the ECS paywall comes down. Tag or bookmark articles of interest now to access them quickly when the door opens.
Share the wealth (of research)
Celebrate open science by helping your peers discover and access valuable research. Spread the word; tell your community about Free the Science Week.
Show your support for ECS's initiative to make research free for everyone to access every week of the year, by sharing your Free the Science Week experiences on social media. Use #FreeTheScience!