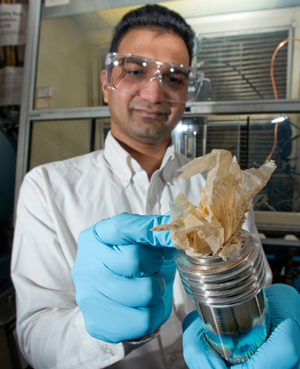 Some people crack under pressure. Not Vilas Pol. The chemical engineering professor from Purdue University was in his element as he raced to assemble the periodic table in record time, 8 minutes and 36 seconds to be exact, setting a new Guinness World title. With all 118 elements set in place, Pol raised his hands, celebrated his new title as the fastest man to arrange all the elements of the modern periodic table. The never before attempted world record was completed on Wednesday, August 15, 2018.
"As a professor, I wish that all my students know this modern periodic table by heart," said Pol after the big win, according to Purdue University.
Pol's work focuses on advancing the current state of commercial energy storage technology. He holds extensive research background in electrochemical engineering, nano-material and composite technology, colloid and interfacial science, surface chemistry, and environmental engineering.
Pol is particularly passionate about electrochemical energy storage technologies. In 2014, Pol, along with a team of Purdue University researchers, developed a new process that turned simple packing peanuts into energy-storing battery components. In 2014, Pol also developed a nanoparticle network with the potential of producing very fast-charging batteries. The new electrode design for lithium-ion batteries has been shown to potentially reduce the charging time from hours to minutes.
Visit The ECS Digital Library for his work on Li-S Batteries, Energy Storage Application, and more.