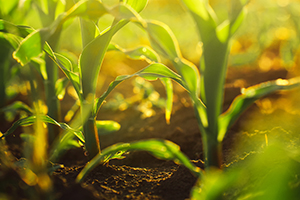 When it comes to growing crops, it's a balancing act. You need just the right amount of sun, water, and soil composition to keep plants happy and blooming.
Researchers have recently discovered that light sensors might be able to help with that. According to New Food, the sensors work by actively measuring the various wavelengths of light coming off of crop leaves. These measurements are then used to calculate how much nitrogen crops need for optimal health.
See, without enough nitrogen crops don't grow well, and yields are reduced significantly. But, if there's too much nitrogen fertilizer it can harm the environment as well.
Yuxin Miao, an Agronomist at the University of Minnesota, says, "Managing nitrogen is vital for global food security. It is also crucial for reducing pollution and climate change."
That's why Miao and his team are working to figure out new ways to effectively manage nitrogen in agriculture.
"Using sensors is fast and non-destructive," says Miao, adding, "This technology can reduce the use of nitrogen fertilizers, and farmers can lower production costs and increase economic returns."
Among those working to advance farm production and green energy technology is Joseph Wang and his colleagues from the University of California. The team developed a prototype for a glove, known as lab-on-a-glove, that farmers can wear to detect the presence of harmful pesticides in real time via biosensors.
In support of advancing green energy technology, the Society is a proud host of the ECS Toyota Young Investigator Fellowship to encourage young professors and scholars in their research.
Elizabeth Biddinger, a recipient of the fellowship, sat with ECS to discuss her work and share her thoughts on green energy technology on the ECS podcast.
Learn more about the ECS Toyota Young Investigator Fellowship and apply by January 31, for your chance to receive a grant of no less than $50,000 to pursue your research for a year.