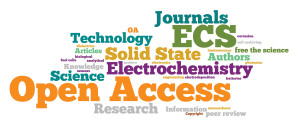 This is from ECS President Paul A. Kohl.
One of the joys of being President of ECS is contacting ECS contributors about good news. I am especially excited about ECS journals and the direction they are taking. I believe they are the quite simply The Best Place to publish electrochemical and solid state papers – especially now they are also enabling Open Access (OA). In short, ECS journals (JES, JSS, EEL, SSL) are:
well-established–we have been publishing since 1902
high quality–our peer-review is excellent and we publish one of the most-cited journals
fast–submission to first decision regularly takes less than a month; and once the paper is accepted it usually takes ten days or fewer for the Version of Record to be published online–faster than any other journal in our field
open access–authors now have the choice of publishing as Open Access, which enables the widest possible distribution because there is no subscription or barrier for readers to access your paper
FREE open access for many of our authors: publishing OA is free to ECS members, ECS meeting attendees, and authors coming from subscribing institutions
No other journal offers this combination of quality, speed, and full open access at no cost to the author.
By publishing your research in our highly respected journals–and choosing to make your papers Open Access–you're helping us make OA widespread and sharing the outputs of your important research with scientists around the world. I did (see my latest article) and will be doing so in the future.
Yours,
Paul
Paul A. Kohl
ECS President
PS: Find out how to publish your manuscript.