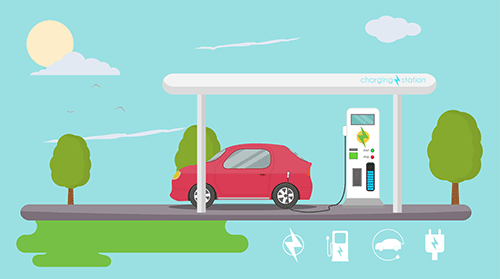 Currently, electric vehicles depend on a complex interplay of batteries and supercapacitors to get you where you're going. But a recently published paper, co-authored by ECS Fellow Hector Abruna, details the development of a new material that can take away some of the complexity of EVs.
"Our material combines the best of both worlds — the ability to store large amounts of electrical energy or charge, like a battery, and the ability to charge and discharge rapidly, like a supercapacitor," says William Dichtel, lead author of the study.
This from Northwestern University:
[The research team] combined a COF — a strong, stiff polymer with an abundance of tiny pores suitable for storing energy — with a very conductive material to create the first modified redox-active COF that closes the gap with other older porous carbon-based electrodes.
"COFs are beautiful structures with a lot of promise, but their conductivity is limited," Dichtel says. "That's the problem we are addressing here. By modifying them — by adding the attribute they lack — we can start to use COFs in a practical way."
In addition to the material's demonstrated scaling properties, it is also extremely stable – lasting 10,000 charge/discharge cycles.
The modified COF demonstrated substantial gains in the ability to both store energy (roughly 10 times more electrical energy than the unmodified COF) and rapidly charge and discharge (10 to 15 times faster).