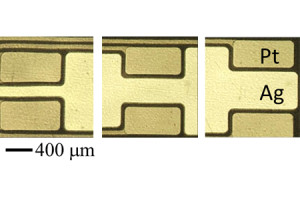 With U.S. healthcare costs of juvenile diabetes approaching $14.9 billion annually due to the upwards of 3 million Americans affected by this type of diabetes, researchers and scientist are looking for more affordable and effective ways to diagnose and treat. Now, researchers from Oregon State University believe they have found that answer.
A paper recently published in ECS Journal of Solid State Science and Technology (JSS) entitled, "Fabrication of a Flexible Amperometric Glucose Sensor Using Additive Processes", details a novel development in sensor technology to create an improved type of glucose sensor for those with juvenile diabetes. The researchers state that this new technology cold provide a more cost effective and comfortable sensor with better efficiency.
One of the key components behind this advancement is the use of electrohydrodynamic jet (e-jet) printing to create the sensor. E-jet printing works in many of the same ways as inkjet printing does, expect instead of using the traditional ink, the e-jet printing system works with biological materials.
This from Oregon State University:
The technology would create an "artificial pancreas" using a single point of bodily entry, or catheter, instead of existing systems that require four entry points, usually in a type of belt worn around the waist.
"This technology and other work that could evolve from it should improve a patient's health, comfort and diabetes management," said Greg Herman, an OSU associate professor of chemical engineering.
In their paper, the researchers concluded that, "the flexible sensor design developed in these studies can ultimately be used within a closed loop artificial pancreas control system thereby reducing the number of components in such a system." Read the rest.
While the sensor is currently only applicable for juvenile diabetes, the researchers hope that it could expand into Type 2 diabetes in the near future.
[Sources:
JSS
,
OSU
,
JDRF
&
Med Device Online
]
ECS publications span the entire subject area of electrochemistry and solid state science. Our content collection is growing in richness every day—offering scientists a first looking into leading-edge research.
Find out more about ECS publications and submit a paper today!