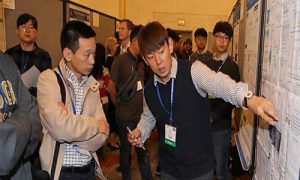 Student Travel Grants are due February 10!
Congratulations to all the students whose posters and presentations have been accepted to the 237th ECS Meeting with the 18th International Meeting on Chemical Sensors (IMCS 2020). A total of 99 posters have been accepted and will be on display at the Z01 General Student Poster Session! Whether you are attending or presenting, you have a great opportunity to meet with the best minds in the field. Our leaders can help guide and accelerate your path to success. Build your network and friendships!
Students! We want you to continue to get the most out of your ECS membership. Whether you're soon graduating, moving into the next stage of education or your career—you will want to stay connected to your ECS Community. Update your profile and we'll help you take advantage of all that ECS has to offer through your career.
We look forward to seeing you at this exciting meeting.