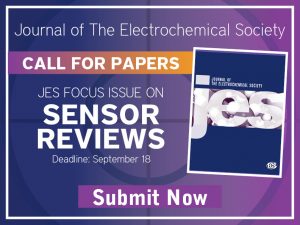 Technical Editor Ajit Khosla and Guest Editors Nick Wu, Peter Hesketh, Muthukumaran Packirisamy, Praveen Kumar Sekhar, Aicheng Chen, Shekhar Bhansali, Jessica Koehne, Larry Nagahara, Thomas Thundat, Netz Arroyo, Kumkum Ahmed, Trisha Andrew, Rangachary Mukundan, and Jeffrey Halpern invite you to submit to the Journal of The Electrochemical Society focus issue on sensor reviews.
Submission deadline | September 18, 2019

Reviews, critical reviews (CRES3T), and perspective articles are solicited in the topical interest area of sensors. Areas of interest include but not limited to:
Chemical and biological sensors
Quantum Sensors
Physical sensors
Lab-on-a-chip
Remote sensors
Sensor networks
Smart/Intelligent sensors
Sensing principles
Optoelectronic and photonic sensors
Optomechanical sensors
Sensor arrays and Chemometrics
Micro and nanosensors/MEMS/NEMS
Sensors and Internet of Things
Sensors and Artificial Intelligence
Signal processing, data fusion and deep learning in sensor systems
Sensor interface and integration
Advanced materials for sensing including nanocomposites
Sensors for localization and object tracking
3D and 4D printing
Sensors for soft robotics
Wearable sensors, electronics, and devices
Flexible sensors, electronics, and devices
Substrates for flexible sensors, electronics, and devices
Energy sources for sensors
All papers published in this focus issue will be
OPEN ACCESS at NO COST to the authors! *
(Be sure to specify your submission is for the JES Focus Issue on Sensor Reviews.)
Papers accepted for this focus issue are published online within 10 days of acceptance. The issue will be created online as the articles are accepted, with the final article published in February 2020.
*ECS is waiving the article processing charge
as part of the Society's Free the Science initiative.
---
Find out more about ECS Journal Focus Issues and the ECS Free the Science initiative.