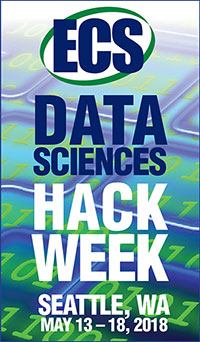 Building on the success of the first ECS Data Sciences Hack Day at the 232nd ECS Meeting this past October 2017, ECS is pleased to offer another opportunity at the 233rd ECS Meeting in Seattle this May.
ECS Data Sciences Hack Week is the Society's foray into building an electrochemical data sciences and open source community from the ground up. Dataset sharing and open source software have transformed many "big science" areas such as astronomy, particle physics, synchrotron science, protein and genomic sciences, as well as computational sciences. The goal of this event is to increase awareness and impact of data science tools, open source software, and shared datasets in electrochemistry by bringing together people from different backgrounds to collaborate.
Data science tools and approaches have the potential to transform bench science like electrochemistry. The critical need is to build a community of electrochemical data scientists, the people who will contribute to a growing library of shared experimental and computational datasets, and who develop and adapt open source software tools.
Hack Week will again be led by the very capable and engaging team from University of Washington: Dan Schwartz, David Beck, and Matt Murbach. The program will kick off on Monday, May 14 and have sessions all day Wednesday through Friday, as well as optional software training tutorials during the week. The activities will culminate with project presentations and an optional clamming expedition on Saturday, a traditional activity in the Puget Sound area.
To help support this unique program ECS has put together sponsorship opportunities for organizations to help fund Hack Week. Sponsoring the ECS Data Sciences Hack Week will get organizations in front of electrochemists and electrochemical engineers interested in data science. The attendees of this programming are innovators, leaders, and future leaders in their fields interested in accelerating research progress.
The funds from the sponsorship go directly to support the program attendees; including complimentary meeting registrations, travel grants, and attendee food and beverage for the program events throughout the week! If you are interested in learning more about the levels of sponsorship, please reach out to Ashley.Moran@electrochem.org.
If you or one of your colleagues would like to learn more about the event, please contact Mary.Yess@electrcochem.org.