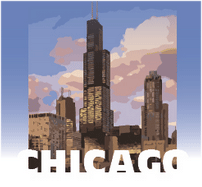 After a several year hiatus, the Chicago Section began the revitalization process in April 2015. Leading the effort in reengaging section members and activity are Alan Zdunek and Jordi Cabana from the University of Illinois at Chicago (UIC) and Eungje Lee and Arturo Gutierrez from Argonne National Laboratory (ANL). They will serve as the interim executive board for the coming year.
A kick-off meeting/social reception is planned during the ECS 227th Meeting in Chicago, IL on Monday, May 25th from 6:00 p.m. to 7:00 p.m., immediately following The ECS Lecture at the plenary. The reception will be jointly hosted by the Chicago Section, the Joint Center for Energy Storage Research (JCESR) and the Center for Electrochemical Energy Science (CEES) and the Chemical Sciences and Engineering Division at Argonne National Laboratory.
All ECS members are invited to participate in the event to learn more about future Chicago Section events and the program highlights from JCESR and CEES.
For more information contact, Interim Chair, Alan Zdunek, at zdunek@uic.edu.