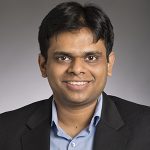 On August 12, 2020, Venkat Viswanathan, Faculty Fellow at the Wilson E. Scott Institute for Energy Innovation and Associate Professor of Mechanical Engineering at Carnegie Mellon University, presented his talk on "Autonomous Discovery of Battery Electrolytes with Robotic Experimentation and Machine Learning" via a live webinar presentation.
Dr. Viswanathan's talk covered the importance of robotic experimentation, machine learning guided design of experiments, and the frontier of remote experimentation.
View Dr. Viswanathan's webinar presentation, here.
* Note: You must fill out the registration form to view the webinar *
Following the talk, attendees were given the opportunity to ask Dr. Viswanathan questions in a Q&A session, available below. (more…)