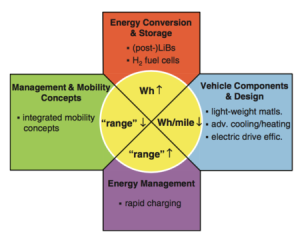 With the transportation sectors of industrialized countries on the rise and greenhouse gas emissions at an all-time high, many scientists and engineers are searching for the next-generation of transportation. From hybrid to electric to hydrogen, alternative energy sources for vehicles are being explored and tested throughout the scientific community. Now, many are wondering which technology will win in the race between battery- and hydrogen-powered cars.
A recent open access paper published in the Journal of The Electrochemical Society (JES) explores this topic. Authors Hubert A. Gasteiger, Jens-Peter Suchsland, and Oliver Gröger have outlined the technological barriers for next-generation vehicles in "Review—Electromobility: Batteries or Fuel Cells?" This paper comes as part of the recent JES Collection of Invited Battery Review Papers.
The majority of today's vehicles depend on petroleum-based products in internal combustion engines to operate. The burning of these fuels results in the emission of greenhouse gasses. The majority of these transportation sector greenhouse gas emissions do not come from large modes of transportation such as aircrafts or ships—but are primarily produced by cars, trucks, and SUVs.
In the recently published review, the authors describe the possibilities of extended range electric vehicles, the challenges in hydrogen fuel cell vehicles, and the potential for new materials to be used in these applications.
Read this open access paper and read the rest of the JES Collection of Invited Battery Review Papers.