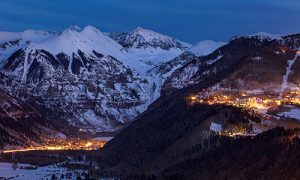 The Telluride Innovation Workshop on Decarbonization of Cement brings together academic, industrial, and national laboratory leaders to brainstorm pathways to decarbonize the cement industry. To ensure an intimate workshop setting, the organizers envisage no more than 20 to 30 participants.
Date: February 7 – February 11, 2022
Location
Ah Haa School of the Arts
200 West Pacific Avenue
Telluride, CO, US 81435
Organizers 
Iryna Zenyuk
Associate Professor, Chemical and Biomolecular Engineering
Associate Director, National Fuel Cell Research Center
Associate Professor (Joint Appointment), Materials Science and Engineering
Associate Professor (Joint Appointment), Mechanical and Aerospace Engineering
University of California, Irvine
Mo Li
Associate Professor, Civil and Environmental Engineering
Associate Professor (Joint Appointment), Materials Science and Engineering
University of California, Irvine
Cost: $449*
Register by December 31, 2021, to receive a $100 Early Bird Lodging Discount. 
Meeting Description
Portland cement, used in concrete, is the most widely used manmade material. But it is also responsible for five percent of global energy consumption and eight percent of anthropogenic CO2 emissions. In cement manufacturing, calcium oxide (CaO) is a major precursor to produce Portland cement. It is currently produced via high-temperature, energy-intensive calcination of calcium carbonate (CaCO3).
The workshop addresses methods that utilize novel electrochemical processes to produce cement precursors, electrified methods to generate heat for cement production, or alternative CO2 storage methods. The organizer and co-organizer currently have an active National Science Foundation (NSF) Future Manufacturing Seed Grant with sponsorship for participation of URM institutions. The participation of scientists from two communities is envisioned: i) cement and ii) electrochemical/electrolysis fields. The objective is to:
Build a bridge between the two communities as electrochemistry can play a big role in cement manufacturing over the course of next decades.
Identify high-risk/high-reward technologies that have promise to reduce carbon intensity and increase energy efficiency of the cement making process.
Write a report from this workshop to inform the community of findings and future advances that need to be made to produce clean cement.
Telluride Innovation
Telluride Innovation is about expanding the frontiers of science, technology, and innovation by exploring new ideas and building collaborations. The workshop schedule allows for substantial unstructured time for participants to talk and think. All participants are expected to stay for the entire duration of the workshop.
Participants  
Christopher Capuano, Nel Hydrogen
Hung-Ming Chan, University of California, Irvine
Devashish Kulkarni, University of California, Irvine
Tianbiao Leo Liu, Utah State University
Iryna Zenyuk, University of California, Irvine
More information about the workshop is available here. 
* Cancellation policy
Once a credit card has been charged, cancelled registrations are subject to a cancellation fee. Registration fees are processed starting on January 15, 2022. Once a registration fee payment has been processed, a $25 cancellation fee is retained from a registration refund. Lodging fee payments are processed 60 days prior to arrival. A $100 cancellation fee applies if cancellations occur after a lodging fee payment is completed. Telluride Science Research Center (TSRC) can only guarantee a refund for the remaining lodging fees if requested prior to each lodging provider's cancellation deadline. TSRC recommends that participants purchase travel insurance to protect against unforeseen, last-minute travel plan changes.