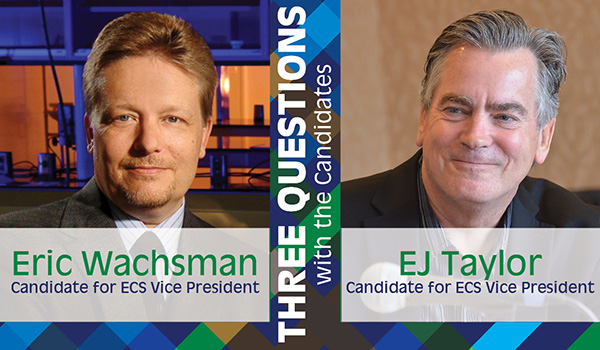 The 2018 Society elections are upon us and ECS wants you to learn more about the candidates from the candidates. All voting members are eligible to participate via electronic proxy. You would have received an email with voting instructions January 15, 2018.
About ECS elections
The early months of each year are an exciting time here at ECS as officer elections take place via electronic proxy in the two-month period from January 15 to March 15, 2018. Elected officers constitute the organization's executive committee and include the following positions: president, three vice presidents, secretary and treasurer. The nominating committee determines the candidates and you determine the winner.
Three Questions with the Candidates allows you a personal glimpse of each volunteer on the current ballot. There is a total of five candidates (one for president and two each for vice president and treasurer). Take a moment to read the full candidate biographies and election statements. And then enjoy their reflections on ECS and the marvel that is science.
---
Three questions with E. JENNINGS TAYLOR and ERIC WACHSMAN, candidates for vice president of ECS.
Office of the vice president
The vice president serves a three-year term as a voting member of the Board of Directors and Executive Committee and is designated third, second and senior in subsequent years. The vice president provides leadership and direction for the topical interest areas and vital ECS functions. Besides having an exceptional scientific background, the vice president learns and understands how the Society programs (publications, meetings, and constituent services areas, awards programs, committee interaction, Bylaws, etc.), are essential to its success.
We urge you to cast your vote today!
PS: Listen to three questions with Yue Kuo, candidate for ECS president.