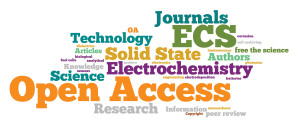 We have been beating the drum about open access here at ECS for some time. This taken from Interface magazine over one year ago:
Commercial publishers have learned that the subscription-based model could be played to their enormous benefit, placing a further cost on the scholarly publishing system. There has been a proliferation of new journals being added to subscription packages, burdening library budgets with additional journals and without providing reciprocal scientific value. This has been coupled with the excessively high prices being charged by many scientific publishers for the dissemination of technical knowledge, and collectively the money now being extracted from the process is stifling scientific advancement. (Read the rest.)
(We noted when Tesla was getting it right, too.)
Now the U.S. Department of Energy has a plan. Our friends over at AAAS have a great take on it. If you haven't engaged yet, please do. This is a good review with pointed pros and cons of the DOE's plan.
The U.S. Department of Energy (DOE) today unveiled its answer to a White House mandate to make the research papers it funds free for anyone to read: a Web portal that will link to full-text papers a year after they're published. Once researchers are up to speed and submitting their manuscripts, that will mean 20,000 to 30,000 new free papers a year on energy research, physics, and other scientific topics.

Although the plan will expand public access to papers, some onlookers aren't happy. That's because the papers will not reside in a central DOE database, but mostly on journal publishers' websites. Open-access advocates say that will limit what people can do with the papers.
Here's the original White House policy memo from February 2013: Expanding Public Access to the Results of Federally Funded Research.
Get all your questions answered about Author Choice Open Access at ECS.