ECS Webinar Sponsorship hosted by IOP Publishing and PhysicsWorld.com
ECS is hosting a series of webinars presented by distinguished speakers in June. Series sponsorship gives businesses unique visibility with the electrochemistry and solid state science community. ECS Webinar Sponsorship is hosted by IOP Publishing and PhysicsWorld.com.
All webinars are hosted from 1pm-2pm ET.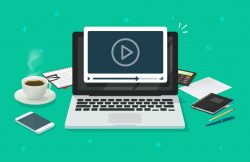 The webinars are broadcast on PhysicsWorld.com, the official website of the Institute of Physics (ECS's publishing partner). The site, which hosts webinars from many of the world's leading scientific manufacturing firms, routinely generates more than 800,000 monthly page views. The audience is primarily scientific researchers from around the world. Reader survey respondents say they use the website for educational purposes to further their knowledge. PhysicsWorld.com's editorial team write extensively on the topic of electrochemistry and solid state science and technology.
Each ECS Webinar has three sponsorship opportunities. The ECS Spring Awards webinar series offers nine sponsorship opportunities. A webinar sponsorship package includes:   
Your company name on the webinar's registration page. People registering for the webinar can click to receive information about your products and services. All direct lead information is GDPR compliant.
The sponsor's name in all webinar marketing.
Sponsor banner advertising on the webinar page.
Sponsor's logo on all event banner advertising.
Sponsor receives one month of free banner advertising 0n the Journal of the Electrochemical Society and ECS Journal of Solid State Science and Technology. 
Follow this link to a similar webinar PhysicsWorld.com ran with the British Cryogenics Council.  
ECS and IOP will promote the webinar across their multiple channels: 
Host Google Adwords campaigns
Social media posts on all ECS and IOP channels—LinkedIn, Facebook, Twitter—with the sponsor tagged where possible
3x webinar-specific advertising in the ECS weekly eNews; sponsor logo included on the advertisement
1x webinar-focused advertising in PhysicsWorld.com email newswire (51,000 subscribers) 
1x marketing email to relevant contacts in IOP's contact database (100,000 records) and ECS's database (34,000 records)
Webinar Sponsorship: $2,500
Limit of 3 sponsors per webinar
Organizations may choose to sponsor multiple webinars or one entire webinar. Multiple sponsorships may qualify for a reduced rate:
One sponsorship placement in all three webinars – $7,000
Sponsorship of one entire webinar – $6,750
In addition to the webinar sponsorship and associated advertising, each webinar sponsor receives more than $3,000 in complimentary advertising:
3 weekly ECS weekly eNews advertisements – $600 value
30 days of top banner landing page advertising on the ECS Career Center (160,000+ sessions/month) – $595 value
30 days of advertising on the ECS Blog (12,000+ sessions/month) – $2,100 value
Contact Anna.Olsen@electrochem.org to reserve your sponsorship space today!