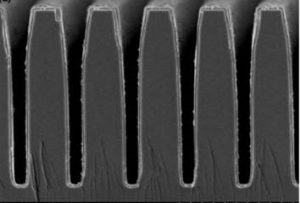 Topic Close-up #6
Symposium G01- Atomic Layer Deposition Applications 17
Deadline for submitting abstracts: April 23, 2021
Submit today!
Symposium focus: The organizers of symposium G01, "Atomic Layer Deposition Applications 17," encourage abstract submissions on the following (and closely related) topics:
Semiconductor CMOS applications: development and integration of ALD (atomic layer deposition) high-k oxides and metal electrodes with conventional and high-mobility channel materials;
Volatile and non-volatile memory applications: extendibility, Flash, MIM (metal-insulator-metal), MIS (metal-insulator-semiconductor), RF (radio-frequency) capacitors, etc.;
Interconnects and contacts: integration of ALD films with Cu and low-k materials;
Fundamentals of ALD processing: reaction mechanisms, in situ measurement, modelling, theory;
New precursors and delivery systems;
Optical and photonic applications;
Coating of nanoporous materials by ALD;
MLD (molecular level deposition) and hybrid ALD/MLD;
ALD for energy conversion applications such as fuel cells, photovoltaics, etc.;
ALD for energy storage applications;
Productivity enhancement, scale-up and commercialization of ALD equipment and processes for rigid and flexible substrates including roll-to-roll deposition;
Area-selective ALD;
Atomic Layer Etching ('reverse ALD') and related topics aiming at self-limited etching, such as atomic layer cleaning, etc.
Check the Call for Papers for more details.
Keynote speakers
Stacey Bent, Stanford University, U.S.
Jonas Sundqvist, TECHCET LLC CA, San Diego USA and BALD Engineering Värmdö, Sweden
Invited speakers
Barry Arkles, Gelest, U.S.
Karsten Arts, Technische Universiteit Eindhoven, The Netherlands 
Parag Banerjee, University of Central Florida, U.S. 
Necmi Biyikli, University of Connecticut, U.S.
Jane Chang, University of California, Los Angeles, U.S.
Lin Chen, Fudan University, China
Hao-Chung Kuo, National Yang Ming Chiao Tung University, Taiwan
Noémi Leick, National Renewable Energy Lab, U.S.
Cathérine Marichy, Université de Lyon, France
Xiangbo Meng, University of Arkansas, U.S.
Mattia Pasquali, University of Leuven and Interuniversity Microelectronics Centre (IMEC), Belgium
Sayeef Salahuddin, University of California, Berkeley, U.S.
Henrik Sønsteby, Universitetet i Oslo, Norway
Shuhui Sun, Institut National de la Recherche Scientifique, Université du Québec, Canada
Angel Yanguas-Gil, Argonne National Laboratory, U.S. 
Tutorials
Ola Nilsen, Universitetet i Oslo, Norway
Steven George, University of Colorado Boulder, U.S.
Please visit the meeting website for further information, including travel and visa updates.
Symposium G01 organizers
F. Roozeboom, Technische Universiteit Eindhoven and TNO-Holst Centre, The Netherlands
S. De Gendt, IMEC and Catholic University Leuven, Belgium
J. Dendooven, Ghent University, Belgium
W. Elam, Argonne National Laboratory, U.S.
O. van der Straten, IBM Research, U.S. 
A. Illiberi, ASM Europe, Belgium
G. Sundaram, Veeco, U.S.
R. Chen, Huazhong University of Science and Technology, China
O. Leonte, Berkeley Polymer Technology, U.S.
T. Lill, Lam Research, U.S.
M. Young, University of Missouri, U.S.

We look forward to seeing you in Orlando!