Allen J. Bard Award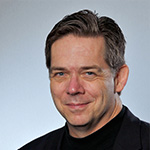 Tuesday, 1410h / Hynes Convention Center – Room 202
Toward Electrochemical Energy Conversion Via Metal-Organic Framework Materials
by Joseph Hupp
Joseph Hupp is the Charles E. and Emma H. Morrison Professor of Chemistry at Northwestern University. His research centers on energy- and defense-relevant materials chemistry, including design and synthesis of materials for chemical separations, chemical catalysis, electrocatalysis, light-to-electrical energy conversion, artificial photosynthesis, storage and release of molecular hydrogen, and capture and destruction of chemical warfare agents.
Professor Hupp, a native of rural western New York State, was introduced to electrochemical research as an undergraduate at Houghton College when evaluating candidate electrode materials for heart pacers. He completed his PhD in Chemistry at Michigan State University in 1983 under the late Mike Weaver. After a postdoc with Thomas J. Meyer at the University of North Carolina, he joined the faculty of Northwestern in 1986.           
A longtime ECS member, Prof. Hupp is a Fellow of the American Academy of Arts and Sciences, American Chemical Society, Materials Research Society, American Association for the Advancement of Science, and Royal Society of Chemistry. He has mentored some 200 PhD students, postdoctoral fellows, and visiting scholars, and about 40 undergraduate research students. Alumni of his group are on the faculties of research universities and liberal arts colleges across the US and worldwide. Recognized by Clarivate Analytics as among the world's most highly cited chemists, Prof. Hupp's research findings are described in nearly 700 peer-reviewed articles and 29 patents.
---
Gordon E. Moore Medal for Outstanding Achievement in Solid State Science & Technology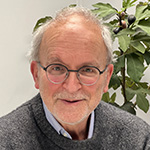 Tuesday, 0900h / Sheraton – Fairfax A
Moore's Law Sustained by Non-Lithographic Technologies
by Fred Roozeboom
Fred Roozeboom is Emeritus Professor in the Inorganic Membranes Group at Universiteit Twente (UT) and a consultant for high-tech industries (tier-1 and SMEs [small and medium-sized enterprises]). Since 2017, his research has focused on selective atomic layer epitaxy (ALE) and atomic layer deposition (ALD), Li-ion batteries, extreme ultraviolet (EUV) optics lifetime, and CO2 capture.
Prof. Roozeboom received his MSc cum laude at Universiteit Utrecht in 1976 and PhD on topics in catalysis at UT in 1980. He researched zeolite catalysis with ExxonMobil in Baton Rouge and Rotterdam from 1980-1983. At Philips Research (now NXP Research) from 1983-1997, he worked on III-V semiconductors, integrated circuit (IC) metallization, and magnetic thin films. There from 1997-2009, he led a team studying 3D-silicon-based passive integration and via hole (TSV) technology for wireless communication and power management. Prof. Roozeboom received the NXP Bronze Invention of the Year 2007 Award and became a Research Fellow. From 2007-2021, as a part-time professor at the Technische Universiteit Eindhoven, he specialized in thin-film technology (plasma etching and atomic layer processing). Concurrently, starting in 2009, Prof. Roozeboom researched the industrialization of spatial ALD and related processing at the TNO Holst Centre. TNO's spatial processing team received the 2011 European Association of Research & Technology Organizations (EARTO) Innovation Award. He joined UT in 2021.
Prof. Roozeboom is the author or coauthor of over 200 publications on chemistry and physics (h-index of 42), five book chapters, 39 granted US patents, editor or coeditor of 51 conference proceedings on semiconductor processing, and Executive Editor of the open access Atomic Layer Deposition International Journal. He is a Fellow of The Electrochemical Society, was or is currently active in several conference committees (AVS, DPS-Japan, ECS, IEEE, and the Materials Research Society [MRS]), and is a member of SEMI Europe's Semiconductor Technology Programs Committee. He is an ECS Electronics and Photonics Division Member at Large, was a member of the European Nanoelectronics Initiative (ENIAC) Advisory Committee to the European Commission, and Meeting Chair of the 2003 MRS Fall Meeting.
John B. Goodenough Award of The Electrochemical Society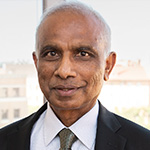 Monday, 0810h / Hynes Convention Center – Room 102
Oxide Revolution in Energy Storage
by Arumugam Manthiram
Arumugam Manthiram is Cockrell Family Regents Chair in Engineering, and Professor, Walker Department of Mechanical Engineering, at the University of Texas at Austin (UT Austin). His long-term relationship with Prof. Goodenough began as a postgraduate researcher with him at Oxford University in 1985 and extended to delivering the 2019 Chemistry Nobel Prize Lecture in Stockholm on the professor's behalf.
Prof. Manthiram received his PhD in Solid State Chemistry from the Indian Institute of Technology–Madras (IIT–Madras) in 1980. Named Assistant Professor in the Walker Department of Mechanical Engineering at UT Austin in 1991, he was promoted to the rank of Professor in 2000. He served as Director of the Texas Materials Institute and the Materials Science and Engineering Graduate Program from 2011 through 2022.
Over 300 students and postdoctoral researchers (including graduating 69 PhD students) received research training from Prof. Manthiram. Of them, 55 are now faculty around the world; several hold leadership positions in industry. His current research group includes about 35 graduate students and postdoctoral fellows. The author of more than 900 journal articles with over 98,000 citations (h-index of 155), Prof. Manthiram has 20 issued patents. He is one of 6,200 scientists and engineers in all fields in the world included as Clarivate Highly Cited Researchers every year since 2017.
Numerous honors mark Prof. Manthiram's distinguished contributions to science. He is an elected Fellow of The Electrochemical Society, Royal Society of Chemistry, Materials Research Society, American Ceramic Society, American Association for the Advancement of Science, and World Academy of Materials and Manufacturing Engineering, and elected academician of the World Academy of Ceramics. He received the 2021 ECS Battery Division Technology Award; 2020 ECS Henry B. Linford Award for Distinguished Teaching; 2020 International Battery Association Research Award; 2018 Da Vinci Award; 2016 Billy & Claude R. Hocott Distinguished Centennial Engineering Research Award; 2015 IIT–Madras Distinguished Alumnus Award; 2014 ECS Battery Division Research Award; 2012 UT Austin Outstanding Graduate Teaching Award, and other awards.
Prof. Manthiram joined ECS in 1995. He has volunteered with the Society as Chair of the ECS Texas Section (2006-2007) and ECS Battery Division (2010-2012), and served on many ECS committees including the Editorial Advisory Board, Symposium Planning Advisory Board, Interdisciplinary Science and Technology Subcommittee, and various award subcommittees. He founded the ECS University of Texas at Austin Student Chapter in 2006 and continues today as its Faculty Advisor.