ECS Student Chapter Munich hosted its first-ever symposium on February 15, 2016, featuring invited talks by Professor Jeff Dahn and Professor Thomas J. Schmidt, a poster session, and numerous opportunities for discussion and networking.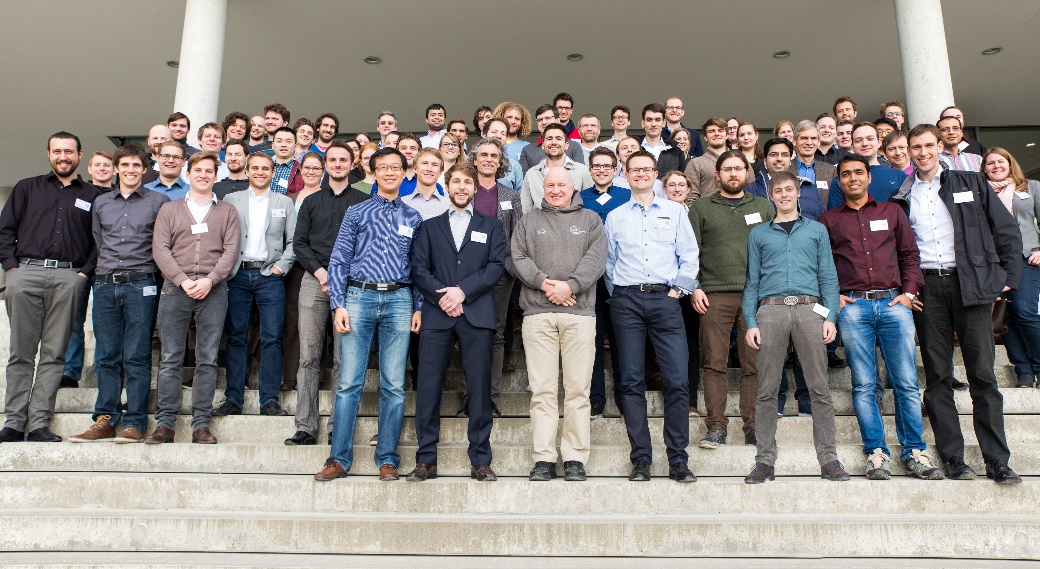 The event was held at TUM Institute for Advanced Study and attended by individuals from 18 different affiliations and two different companies. Out of the attendees, 38 were current or prospective members of ECS Student Chapter Munich, which launched in September 2015. The following information regarding the event was provided by Munich Chapter President Thomas Mittermeier, Jan Schwämmlein, and Armin Siebel.
Invited Talk #1: Professor Jeff Dahn
"It is hard to make a Li-ion battery last a long time, but even harder to prove that it will."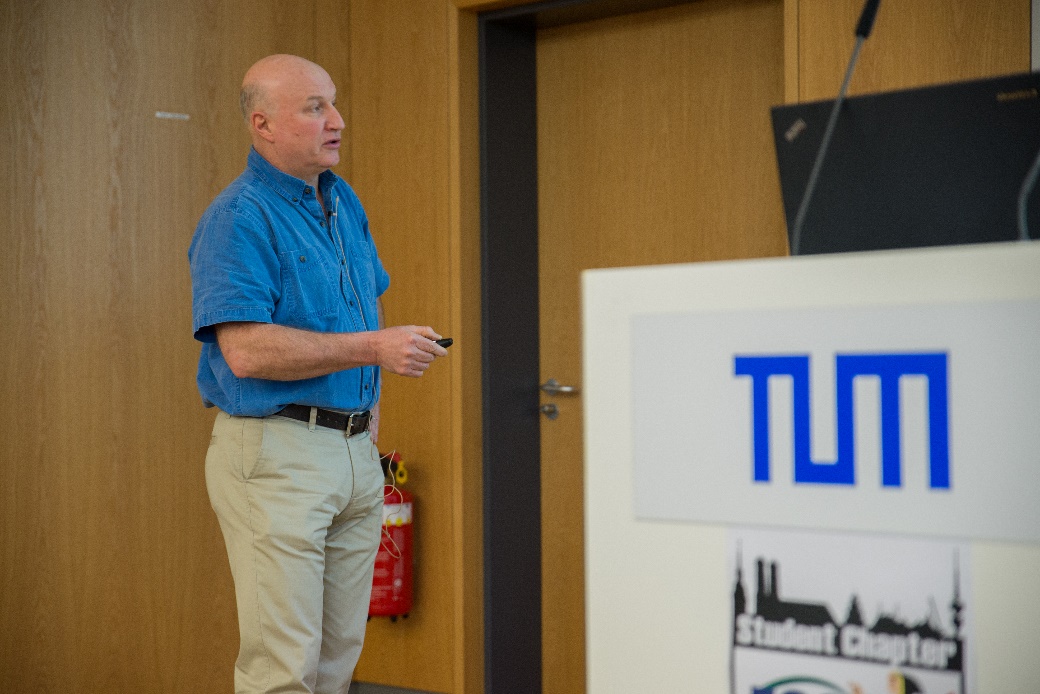 Professor Jeff Dahn (Dalhousie University, CAN) has contributed significantly to the field of Li-ion battery research. His talk focused upon lifetime studies of Li-ion batteries as well as appropriate means of prediction. Additionally, he presented recent diagnostic approaches for monitoring electrolyte content during degradation testing, which is of paramount importance to the prediction of cell failure, where electrolyte loss plays a key role.
Invited Talk #2: Professor Thomas J. Schmidt
"Oxygen Evolution on Non-Noble Metal Catalysts"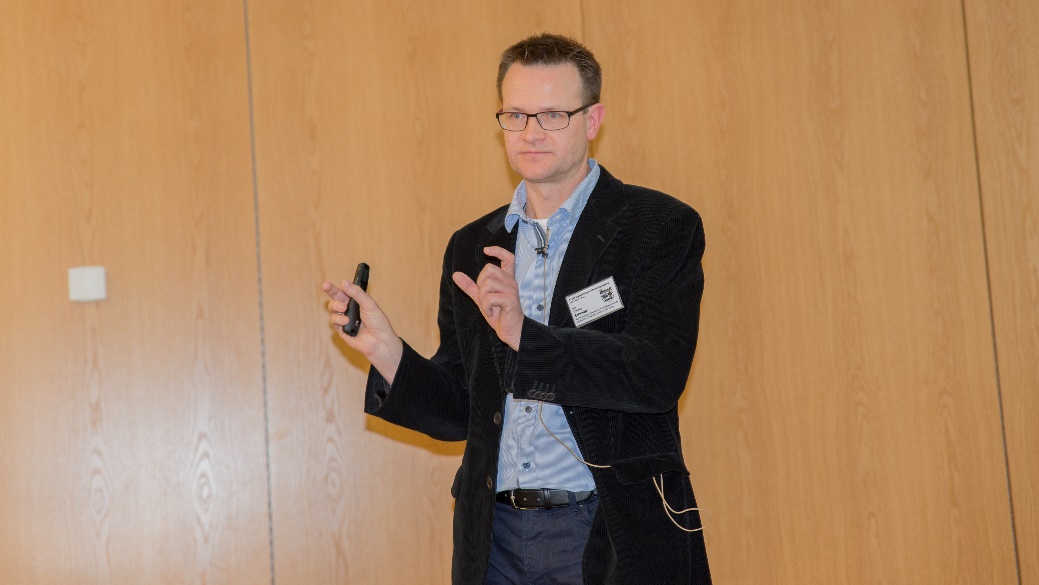 Professor Thomas J. Schmidt (Paul-Scherrer-Institute (PSI), ETH Zürich, SUI) has recently been investigating electrolysis with specific interest in non-noble metal based electrocatalysts for the oxygen evolution reaction with his group at the PSI. So far, the only viable electrocatalysts for this reaction, in an acidic environment, are rare noble metals or their oxides, such as IrO2 or RuO2. Switching to an alkaline environment gives rise to the possibility of expanding the palette of potential catalyst materials to non-noble metals.
Professor Schmidt is also an associate editor for the Journal of the Electrochemical Society.
Poster Session
Following the two invited talks, a poster session was held during which a total of 20 posters were presented. These presentations covered a wide range of fields of study, from modeling NMR-spectra of specific battery materials, to spectroscopic approaches for operando investigation in mechanistic studies, to battery safety and fuel cell electrocatalysis.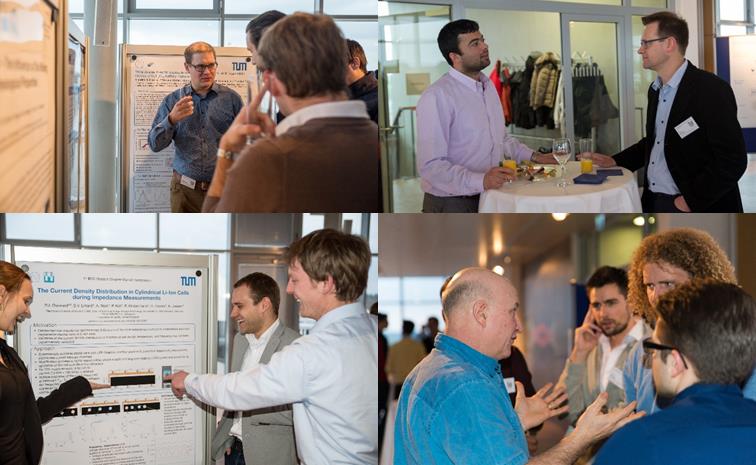 Complemented by a light buffet, the session cultivated a convivial atmosphere conducive to academic curiosity and conversation.
Acknowledgements
From Thomas Mittermeier, Jan Schwämmlein, and Armin Siebel:
Once more we thank Prof. Jeff Dahn and Prof. Thomas Schmidt not only for taking the time and coming to Munich, but also for their insights into great, recent and fascinating research subjects of theirs. Also, our kindest thank you to all poster presenters, helpers and further supporters. Financial support by the Faculty Graduate Center Chemistry of TUM, made possible with the help of Dr. Markus Drees, is highly acknowledged – without this support, neither the invitation of our guests, nor the symposium itself would have been possible. Many thanks go to Hubert Gasteiger for mental, financial and networking support. TUM ZA4, Immobilienmanagement is gratefully acknowledged for providing the rooms of the Institute for Advanced Study free of charge.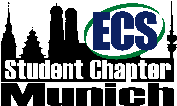 Want to get in touch with ECS Student Chapter Munich? E-mail the chapter at ecsscm@tum.de!