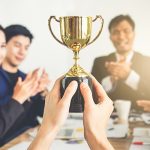 Through the Daniel Cubicciotti Student Award, the ECS San Francisco Section assists a deserving student in Northern California pursue a career in the physical sciences or engineering.  The award, established in 1994, is given annually in honor of spirited researcher and innovator Daniel Cubicciotti. The award winner receives an etched metal plaque and US $2,000. In addition, up to two honorable mentions receive a framed certificate and US $500. 
The 2020 recipients of the Daniel Cubicciotti Student Award are:
Winner
David Mackanic is founder and CEO of Anthro Energy, a company inventing next-generation polymer materials to create batteries that are flexible, safe, and high performance. He earned his PhD in chemical engineering from Stanford University, US, with a focus on polymer science and electrochemistry. Mackanic was supported at Stanford by Stanford Graduate and National Science Foundation Graduate Research Fellowships. He was listed on Forbes' 2021 "30 Under 30" in Energy and received the MRS Gold Award and ACS Bright Science Award. From 2018-2020, Mackanic worked in venture capital as an Investment Partner at the Dorm Room Fund.
Honorable Mention
Bin Yao received his PhD degree in Chemistry and Materials Science at the University of California, Santa Cruz, US, in 2020 under the supervision of Professor Yat Li. His research focuses on the rational design and additive manufacturing (3D printing) of electrodes for energy storage and conversion, including supercapacitors, batteries, and photo-electrochemical water splitting. He serves as a reviewer for more than 25 peer-reviewed journals including Advanced Functional Materials, Nano Energy, Journal of Materials Chemistry A, Carbon, ChemSusChem, and Electrochemical Communications. Yao has received a number of awards including the Materials Research Society Graduate Student Gold Award. His achievements have been highlighted by media outlets such as UCSC news, LLNL news, ScienceDaily, EurekAlert!, Inside Science, and IEEE Spectrum.
Visit the award page for the full award description and list of notable past recipients.