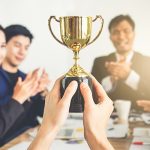 Congratulations to Julie Fornaciari, winner of the ECS San Francisco Section 2022 Daniel Cubicciotti Student Award, and to Rachel Zhuojun Huang and Matthew Liu who received Honorable Mentions.
The Daniel Cubicciotti Student Award recognizes a deserving undergraduate student from a college or university in Northern California pursuing a career in the physical sciences. First prize recipients receive an etched metal plaque and $2,000 prize. The section also recognizes up to two students with honorable mentions. They receive framed certificates and $500 prizes.
Winner
Julie Fornaciari just completed her PhD in chemical engineering at the University of California, Berkeley, working on electrochemical energy conversion and storage of hydrogen gas under Prof. Alex Bell and Dr. Adam Weber. She spent the last five years working on low temperature water electrolysis, concentrated on multiscale transport in electrolytic devices, focused primarily on diagnostic experiments and characterization of these devices. This month, she joins the US Department of Energy as a Hydrogen Shot Fellow in the Hydrogen and Fuel Cell Technology Office in Golden, CO. Julie is a first-generation college student from Chicago. In addition to her research, she is passionate about science communication and bridging the gap between scientists and non-scientists. She volunteered for various programs through the non-profit Community Resource for Science including the Bay Area Scientists Inspiring Students (BASIS) program. Julie was a writer and editor for Berkeley Science Review magazine and Berkeley SciComm Fellow. She served on the ComSciCon Flagship conference programming committee for the past two years. Outside the lab, Julie has hiked more than 600 miles since moving to the Bay Area, and loves to rock climb, read, and travel.
Honorable mention
Rachel Zhuojun Huang is a fifth year PhD student at Stanford University doing research at the intersection of polymer and electrochemistry. Her research focuses mainly on polymeric interface for lithium metal anodes and next generation safe polymeric electrolytes. She completed her BS in Materials Science and Engineering at the University of California, Berkeley. In her free time, she enjoys doing stand-up comedy.
Honorable mention
Matthew Liu is currently a PhD candidate in Chemical Engineering at Stanford University, where he is an ARCS Fellow and NASA Space Technology Research Fellow. A member of William Tarpeh's lab, Matthew applies principles of electrochemical engineering to advance the studies of electrocatalytic nitrate reduction, reaction microenvironments, reactive separation processes, and resource recovery from wastewater. He received the 2022 ECS IE&EE Division Student Achievement Award. Matthew earned his BS in Chemical Engineering at the University of California, Berkeley, and interned at Lawrence Berkeley National Laboratory, where he studied the chemical kinetics of aerosol oxidation processes.