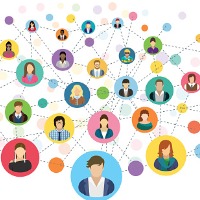 One of The Electrochemical Society's most important missions is to build a strong community of scientists and engineers working on electrochemical technologies. To help a critical component of our community—early career professionals after their graduate work or coming from non-traditional fields—transition smoothly into careers and ECS membership, the Individual Membership Committee approved the launch of a pilot membership program for Early Career Members. In this program, Early Career Membership is available at only $70, a 46 percent savings over the regular membership rate of $130.
The benefits of ECS membership are showcased multiple times each year when thousands converge on ECS meetings to share their cutting edge research and development activities. However, the value that ECS brings to its early career members does not stop there. Members access resources that help build long lasting, successful careers:
Digital Library with more than 160,000 articles and abstracts—and 100 free downloads
ECS Career Center which connects you with employers and exactly what you're looking for
Education programs tailor-made (and affordably priced) to sharpen your employment skills
Honors, Awards & Fellowships including travel grants and awards that recognize your excellence—and enhance your resume
Deep discounts on ECS biannual meetings, educational programming, products and services, and publications such as Monographs and ECS Transactions
Publication assistance such as a 75 percent discount on each open access article process charge (APC), ScholarOne (a comprehensive workflow-management system for scholarly journals), editorial feedback, and more

The ECS Community
Early career members tell us that the benefit they most value is the opportunity to interact with leaders in their field and the more than 8,000 ECS members around the world. Through biannual meetings, ECS division and section events, and involvement on ECS committees, you engage with your peers, up-and-coming stars, and people whose names you have only seen in print!
William Mustain, Professor of Chemical Engineering at the University of South Carolina and Chair of the Individual Membership Committee, said about the pilot program, "One of the things that our committee is most passionate about is engaging with young professionals and showing them how ECS and ECS members like us can be an invaluable resource as they start their careers. I personally could not imagine where my career would be without this community. The new pilot program is one way to get them in the door, and is only one of the ways that we will be reaching out to that community in the coming months." 
Next Steps
The ECS Individual Membership Committee approved the Early Career Membership program pilot on May 11, 2020. Over the next year, the committee will collect data on the pilot program's success. Then they will decide whether to recommend to the ECS Board of Directors that the Early Career Membership program become permanent.
Join ECS as an Early Career Member
Click to join!