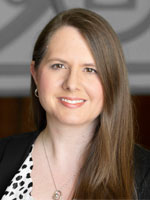 In just a few months, everything has changed—and will continue changing in the months ahead. ECS reached out to our members to understand how this unprecedented crisis affects our community. We will share their observations and insights in a series of stories so our shared experiences help us navigate this period.
There will be bumps in the road, unexpected opportunities, and newly discovered inspirations.  What is clear: everyone longs to return to their labs; and research, collaboration, teaching, and learning continue in new ways. We hope you stay connected to your colleagues and the broader ECS community for support.
Elizabeth Biddinger on Being Sensitive to our Academic Community's Needs
Elizabeth Biddinger Assistant Professor, Chemical Engineering Department, City College, The City University of New York (CUNY), shares how she and her CUNY community are adapting to—and planning to move beyond—the the current situation.
Human Beings First…
CUNY recently surveyed students to evaluate their situations. "As time passes, the pandemic affects more students through family illnesses and finances. Many students work, some full time, to support their families. Others work many extra hours as essential personnel, and aren't available during class period. Other students lost their jobs. It's challenging for some to find a quiet time and place in small New York-sized apartments. We record all our lectures, so students can listen to them at convenient times. We're doing our best to be sensitive to our students' needs."
Remote Teaching, Learning, and Collaborating
Keeping the community engaged in a remote learning environment is challenging.
"I worry about my students during my two-and-a-half-hour weekly class. It's easier to get distracted when you're online. It's hard to be attentive in person, but if you are alone, online? So I include interaction."
"While class engagement in the form of questions is similar to in person class, some colleagues say that they get more questions now. Shy students are less reticent. Managing student chat bar questions while lecturing is challenging. Stopping and addressing the question to the whole class, interrupts the flow."
"I am doing a lot to ensure that our community stays connected, and that students, faculty, and staff continue to be engaged. I hold weekly virtual town halls with PhD students. My department chair and I cohost virtual tea times on Tuesday through Friday afternoons."
Lab Notes
The campus labs at CUNY have been completely closed since March 17. "Early on in the shutdown, I said to my students, 'Take care of data that you collected but didn't duly process. Take deeper dives into the literature to better understand your area.' We are thinking about how we design experiments and research, so that when we return to the lab, we do so more intelligently.  A fair amount of writing is going on. One student is submitting a manuscript next week."
"My students attend webinars and virtual conferences. They're learning more about electrochemical impedance spectroscopy, simulation programs, atomic force microscopy, and XPS. I've attended a few quite good instrument manufacturers' webinars 'with' my students."
Inspire and be inspired
Sharing programming ideas enriches everyone's learning experience. "A faculty colleague I knew from ECS had a great idea. She reached out to colleagues and asked, since we don't have results to share, would we like to do group meeting exchanges where students present their research at someone else's group meeting. As her meetings were oversubscribed, I launched my own series called 'Conversations with Chemical Engineering PhD Students.' The first is 'Why Did You Choose to Do a PhD?' and the next is 'Why Pick to do a PhD?' The series will be live and then archived on YouTube."
What's Next?
Regarding the fall, faculty are told to "prepare to be nimble." "At every level of City College, from faculty and students to the administrators, we are looking to the future. Summer is fully online. No decision has been made about the fall. I think we will be more prepared than in the past. We know the teaching infrastructure. Perhaps we can do more 'in person' social distancing. Maybe the lab will be open but lectures will be online."
"I look forward to bringing a couple of students to PRiME 2020. It has a special place in my heart. PRiME was my first technical conference, when I was undergraduate. We will submit our abstracts and hope we can go."
Beyond Academia
Elizabeth's work outside the classroom has also been impacted. "My own research is in electrocatalysis and the use of ionic liquids for electrochemical applications. This work takes dedicated lab space, instruments that require gasses, and large infrastructural support—not something that someone can do on their own at home."
"I served on a virtual National Science Foundation (NSF) panel. We selected the best science in the proposals, but weren't able to network and generate new ideas during coffee breaks, lunches, and dinners. I miss acknowledging panel members or saying hi and chatting on the side. I prefer the in person to the virtual event."
Elizabeth Biddinger
Biddinger is Assistant Professor, Chemical Engineering Department, City College, The City University of New York (CUNY). She teaches reaction engineering for senior undergraduates and chemical reaction engineering for grad students. She guides three PhD students and several undergraduates, and works with collaborators. She was awarded the 2016-2017 ECS Toyota Young Investigator Fellowship. Biddinger reports that she has been granted tenure and a promotion, effective in August. Pre-COVID-19, she spent much of her time in her office, and in many meetings.