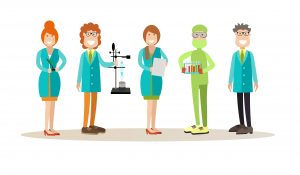 The Electrochemical Society is proud to announce the Society's most distinguished members recognized as 2019 Highly Cited Researchers. The prestigious list, published by the Web of Science Group at Clarivate Analytics, identifies scientists and social scientists who produced multiple papers ranking in the top 1% by citations for their field and year of publication, demonstrating significant research influence among their peers.
This year's list includes some of the "world's most influential scientific minds." Among those on the top of the list is 2019 Nobel Laureate (Chemistry) and ECS Fellow JOHN B. GOODENOUGH. For 2019, Goodenough was selected for the field of chemistry. Back in 2001, the first year the Highly Cited Researchers list was issued, he was selected for the field of materials science. ECS Fellow YI CUI was recognized for three fields—chemistry, engineering, and materials science. ECS Life Member MICHAEL GRAETZEL received accolades for the fields of chemistry, materials science, and physics. Nine additional ECS Fellows were considered Highly Cited Researchers—KHALIL AMINE, HUBERT GASTEIGER, YURY GOGOTSI, PRASHANT KAMAT, MEILIN LIU, YANG-KOOK SUN, JOSEPH WANG, YANG SHAO-HORN, and JUN LIU.
Below is a list of ECS members whose research on electrochemistry and solid state science and technology is shaping the scientific discourse. (F denotes ECS Fellow.) Did we miss your name? Let us know and we will broadcast your achievements online.
Congratulations to all!
Khalil Amine (F)
Peter Bruce
Gerbrand Ceder
YongSheng Chen
Jaephil Cho
Yi Cui (F)
Hubert Gasteiger (F)
Yury Gogotsi (F)
John B. Goodenough (F)
Michael Graetzel
Mark Hersam
Joseph Hupp
Ali Javey
Song Jin
Prashant Kamat (F)
Marc Koper
Yuehe Lin
Jun Liu (F)
Meilin Liu (F)
Chad Mirkin
Jens Norskov
Yang Shao-Horn (F)
Peter Strasser
Yang-Kook Sun (F)
Chunsheng Wang
Joseph Wang (F)
Gang Wu
Jie Xiao
Qingyu Yan
Gleb Yushin
JiuJun Zhang
Qiang Zhang