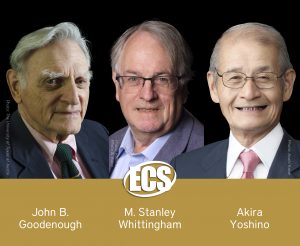 The Electrochemical Society honors 2019 Nobel Chemistry Prize laureates, John B. Goodenough, M. Stanley Whittingham, and Akira Yoshino, by the launch of a new collection highlighting their scientific contributions published by ECS. In addition, ECS recognizes their contributions in the winter 2019 issue of Interface, now available online.
Goodenough, Whittingham, and Yoshino have been deeply involved with The Electrochemical Society—as members, authors, editors, fellows, meeting participants and organizers, awardees, and more. Their publications with ECS, to varying degrees, trace the history of the development of the Lithium-ion battery, the revolutionary invention for which they shared the 2019 Nobel Prize in Chemistry.
Whittingham began publishing in the Journal of the Electrochemical Society (JES) in 1971 when he was still at Stanford University. He contributed throughout his seminal years with Exxon Research and Development Company where he created the first rechargeable lithium-ion battery in 1976. His articles appeared regularly in JES through 2019. Whittingham also contributed to Electrochemical and Solid-State Letters.
Goodenough published in JES, ECS Transactions, and Electrochemical and Solid-State Letters from 1999 until as recently as 2020. The Royal Swedish Academy of Science's "Scientific Background on the Nobel Prize in Chemistry 2019" cites one Goodenough article published in JES as being particularly critical to the development of the Lithium-ion battery. "Phospho-Olivines as Positive-Electrode Materials for Rechargeable Lithium Batteries" is included in the new collection. Goodenough's most recent 2020 contribution in the collection is a tribute to Michel Armand, one of the world's leading scientists in the R&D of modern energy storage systems.
In 2004, Yoshino announced the development of a novel lithium-type advanced energy storage device in JES.
Many of the articles included in the collection are published open access. Articles about all three scientists also appeared in Interface.