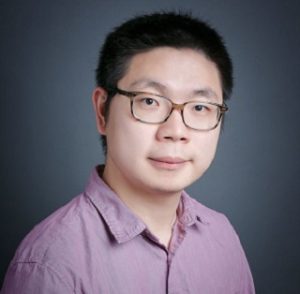 Long Luo, the featured speaker at ECS Detroit Section's November 21 meeting, presents:
"Bubble-based electrochemical methods for detection of per- and polyfluoroalkyl substances (PFAS) in water"

Long Luo
Assistant Professor, Department of Chemistry
Wayne State University
Detroit, Michigan
When:
Thursday, November 21, 2019
Schedule:
17:30 Reception
18:00 Dinner
19:00 Speaker

Where:
Lawrence Technological University
Taubman Welcome Center, Building #5, 4th Floor, Room 406
Southfield, Michigan 48075
Dinner will be provided at $20 (rate reduced to $10 for students, postdocs, and interns).

ECS members and non-members welcome.
Register online at ECS Upcoming Events or RSVP by November 8 at ecs.detroit.rsvp@gmail.com 
About
Long Luo is Assistant Professor in Wayne State University (WSU)'s Department of Chemistry. He received his BS in applied chemistry from Beijing University of Aeronautics and Astronautics in 2009 and his PhD in chemistry from the University of Utah in 2014. Before joining WSU in 2017, Luo worked as a postdoctoral fellow in the Department of Chemistry at the University of Texas at Austin. In 2019, he was appointed as a Langmuir Inaugural Early Career Advisory Board Member and member at large of the ECS Detroit Section. Luo received the ECS Young Professional & Early Career Travel Award, and Midwestern Universities Analytical Chemistry Conference Young Investigator Travel Award. His current research interests include electrogenerated bubbles, electrochemical synthesis, and electrokinetic phenomena. Luo has published 30+ peer reviewed journal articles and holds two filed patents. He presented two papers at the 235th ECS Meeting in May 2019.
Abstract
This talk presents a proof-of-concept electrochemical sensor for detection of per- and polyfluoroalkyl substances (PFAS) in water. PFAS are persistent and globally distributed environmental contaminants. The strong carbon-fluorine bonds of PFAS make them resistant to physical and metabolic degradation leading to bioaccumulation and adverse health outcomes in humans and wildlife. The quantitative determination of PFAS in environmental matrices has been dominated by the use of HPLC-negative electrospray ionization-tandem MS. However, high purchase and maintenance costs limit the availability of this method for routine on-site screening analyses. Therefore, there is a critical need to develop a low-cost, sensitive, portable method for detection of PFAS in water. This detection method is based on the high surface activity of PFAS, which lowers the energy barrier for bubble nucleation. A sensitive electrochemical transducer was developed that reports the change of surface tension in the form of an electrical current which is directly related to the PFAS concentration. The limit of detection of the detection method is ~10 μg/L with a dynamic range of over three orders of magnitude. With the addition of a newly developed bubble-based preconcentration step, the method achieves the limit of detection of interest: 70 ng/L, which is recommended by the U.S. Environmental Protection Agency for PFOS and PFOA—the two dominant PFAS contaminants—in drinking water individually or combined.