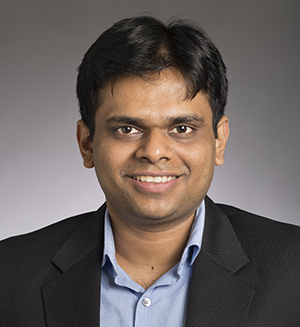 Following on ECS's three hugely successful webinars in June, ECS is proud to present Venkat Viswanathan on August 12, 2020, at 1:00 pm ET.
Autonomous Discovery of Battery Electrolytes with Robotic Experimentation and Machine Learning
Presenter: Venkat Viswanathan, Faculty Fellow at the Wilson E. Scott Institute for Energy Innovation and Associate Professor of Mechanical Engineering at Carnegie Mellon University
Date: August 12, 2020
Time: 1-2pm ET
"Innovations in batteries take years to formulate and commercialize, requiring extensive experimentation during the design and optimization phases. We approached the design and selection of a battery electrolyte through a black-box optimization algorithm directly integrated into a robotic test-stand. We report here the discovery of a novel battery electrolyte by this experiment completely guided by the machine-learning software without human intervention. Motivated by the recent trend toward super-concentrated aqueous electrolytes for high-performance batteries, we utilize Dragonfly—a Bayesian machine-learning software package—to search mixtures of commonly used lithium and sodium salts for super-concentrated aqueous electrolytes with wide electrochemical stability windows."
– Venkat Viswanathan

Benefits of attending?
Learn about:
The importance of robotic experimentation
Machine learning guided design of experiments
The frontier of remote experimentation

Viswanathan's background
Venkat Viswanathan completed his PhD at Stanford University after receiving a BTech and MTech in Mechanical Engineering from the Indian Institute of Technology, Madras. His research interests are in energy storage, specifically advanced lithium-ion batteries. Current research focuses on identifying the scientific principles governing material design, inorganic, organic and biomaterials, for novel energy conversion and storage routes. His awards include the National Science Foundation CAREER award in 2016; American Chemical Society PRF Young Investigator in 2014; Finalist in MIT TR Innovators Under 35 in 2014; The Electrochemical Society Daniel Cubicciotti Award in 2010 and Herbert H. Uhlig Summer Fellow in 2009. Read about Viswanathan's perspective on the COVID-19 pandemic. 
Sponsor
A special thank you to our sponsor, the Royal Society of Chemistry.

Sponsorship opportunities
ECS is hosting 10 webinars from August – December 2020 (two per month). Each ECS Webinar has four sponsorship opportunities. Please see the August-December 2020 Webinar series information.
Contact edward.jost@ioppublishing.org to reserve your sponsorship space today!