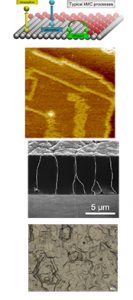 The Journal of The Electrochemical Society is publishing a focus issue in connection with the 241st ECS Meeting Nucleation and Growth symposium.
This focus issue aims to capture the latest findings and insights related to phase transformation in electrochemical systems. Contributions for this cross-disciplinary pursuit are sought from researchers with diverse expertise and backgrounds reporting on the latest experimental and computational approaches to understanding nucleation and growth phenomena during electrodeposition and dissolution.
Modern imaging, scattering, and spectroscopy tools along with related methods are enhancing our understanding of phase transformations across a wide range of length scales. In the case of electrodeposition, nucleation and growth play a central role in applications ranging from microelectronics and MEMS to energy conversion and storage systems. This focus issue brings together researchers with diverse expertise and backgrounds to share new experimental and computational approaches to enable progress in the mechanistic understanding of nucleation and growth phenomena. Interest is focused on resolving and explaining the morphological, structural, and compositional evolution of electrode surfaces during electrodeposition. Understanding shape selection, stability criteria, and exploring engineering strategies aimed at specific technological ends are also of interest.
This virtual issue focuses on papers covering the following topics:
Classical and non-classical nucleation in electrochemistry;
Morphological evolution during film growth and dissolution from smooth films to highly anisotropic growth of faceted crystals, nanowires, dendrites, and foams;
Advanced imaging, scattering, spectroscopic, and electroanalytical tools to probe the above processes;
New processes for manipulating nucleation and growth processes, from the use of additives to different electrochemical control modalities, to obtain either smooth dense films or high surface area, ramified electrodeposits;
Discovery science and mechanistic studies related to emerging applications in battery electrodes, micro- and nano-fabrication, to high value-added electrolytic processes for material synthesis;
Multiscale computational studies.
The issue is open to all interested authors who may submit review, critical review, perspective, methods, communication, and original research articles.
Accepting Submissions: April 1, 2022 | Submission Deadline: June 29, 2022
(When submitting, indicate that the paper is intended for the Focus Issue on Nucleation and Growth: Measurements, Processes and Materials)
---
Guest Editors
Thomas Moffat, National Institute of Standards and Technology, U.S. | thomas.moffat@nist.gov
Y. Shirley Meng, University of Chicago, U.S. | shirleymeng@uchicago.edu
Timo Jacob, University of Ulm, Germany | timo.jacob@uni-ulm.de
Toshiyuki Nohira, Kyoto University, Japan | nohira.toshiyuki.8r@kyoto-u.ac.jp                                             
Yasuhiro Fukunaka, Kyoto University, Japan | fukunaka.yasuhiro.35c@st.kyoto-u.ac.jp
Technical Editor
Takayuki Homma, Waseda University, Japan | jes@ec.appchem.waseda.ac.jp  
Editor-in-Chief
Robert Savinell, Case Western Reserve University, U.S. | rfs2@case.edu
---
Articles are published in a standard issue of the journal as they are accepted. If selected at submission, accepted papers are published online in the ECS Digital Library on IOPscience within 24 hours of scheduling for publication. The version of record is published online within approximately 10 days of final acceptance.
Visit the ECS website for author submission instructions and requirements for each article type.
OPEN ACCESS: Authors choosing to publish open access agree to pay an article processing charge (APC) if their papers are accepted. APCs are discounted by 75 percent for ECS members and waived for authors from ECS Plus subscribing institutions. Check if your institution subscribes to ECS Plus. Discounts are applied at the time of payment.