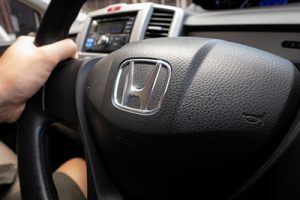 The search for the next level, new, and improved electric vehicle battery is an ongoing one. And it's one Honda may have found. According to The Drive, the Japanese automaker claims to have developed a new battery chemistry called fluoride-ion that could outperform current lithium-ion batteries.
Honda says fluoride-ion batteries offer 10 times greater energy density, meaning more storage and range for electric vehicles, thanks to the low atomic weight of fluorine that makes fluoride-ion batteries' increased performance possible.
According to Left Lane News, chief scientist at the Honda Research Institute Christopher Brooks says, "Unlike Li-ion batteries, FIBs do not pose a safety risk due to overheating, and obtaining the source materials for FIBs creates considerably less environmental impact than the extraction process for lithium and cobalt."
It's not exactly a new idea; the benefits of fluorine were previously known. However, it required temperatures of around 302 degrees Fahrenheit to work, which presented a problem when putting into everyday use.
But now, thanks to a new fluoride electrolyte developed by researchers, Honda says they've found a way that allows the batteries to operate at room temperature. Results have proven successful within the lab, the question now is will it work in the real world and will the technology be commercialized?
For now, the future seems a bit unclear, but Honda is working hard at making FIBs a reality, as they believe it's the future of not only electric vehicles but of smaller power products.
Honda isn't the only automaker fussing over electric vehicle battery technology. Bentley's CEO Adrian Hallmark recently said battery technology is not advanced enough for luxury electric vehicles, opting out for the day that technology can prove advanced enough to power a pure electric Bentley and rise to their standards.
The carmakers aren't alone in their pursuits. Advanced industrial and consumer electronics devices are demanding more energy storage and increasingly higher lithium-ion battery (LIB) specific energy and power densities. Researchers are working hard to find new, innovative ways to advance the technology. Having a better understanding of battery safety and failure modes enables cell and system design improvements, performance enhancements, and facilitates regulatory approvals of advanced LIB power systems, which is why ECS is seeking abstracts on battery safety and failure modes for the 235th ECS Meeting.
The meeting offers a space for scientists, engineers, and industry leaders around the world to come together and share the latest scientific and technical developments in electrochemistry and solid state science and technology. Don't miss the opportunity to discover your community. Submit your abstract by Monday, December 28. 

John Goodenough, widely recognized for his role in the development of the rechargeable Li-ion battery, sat with ECS for an interview on his career.